Ultimate Guide for Visiting Jordan!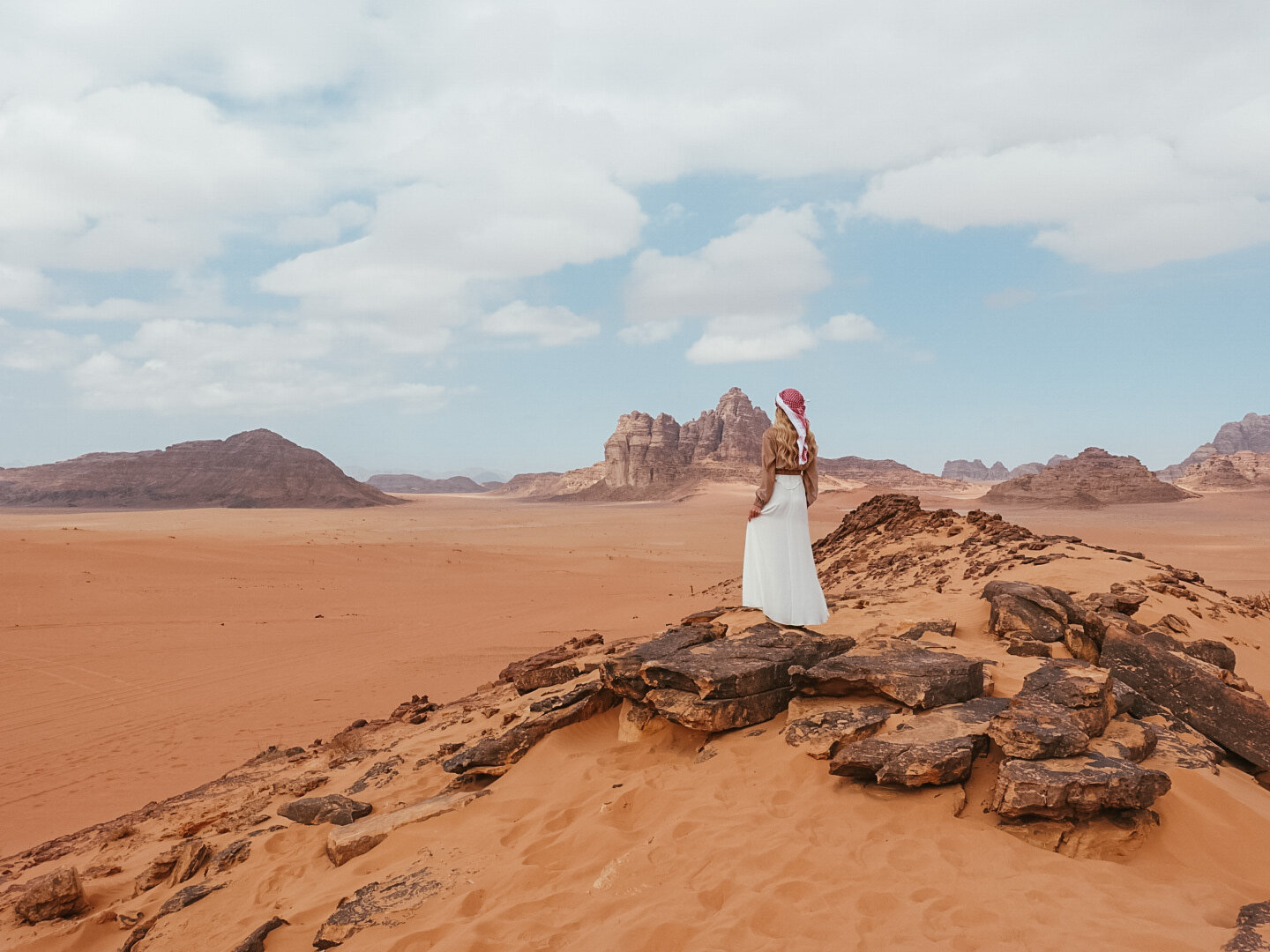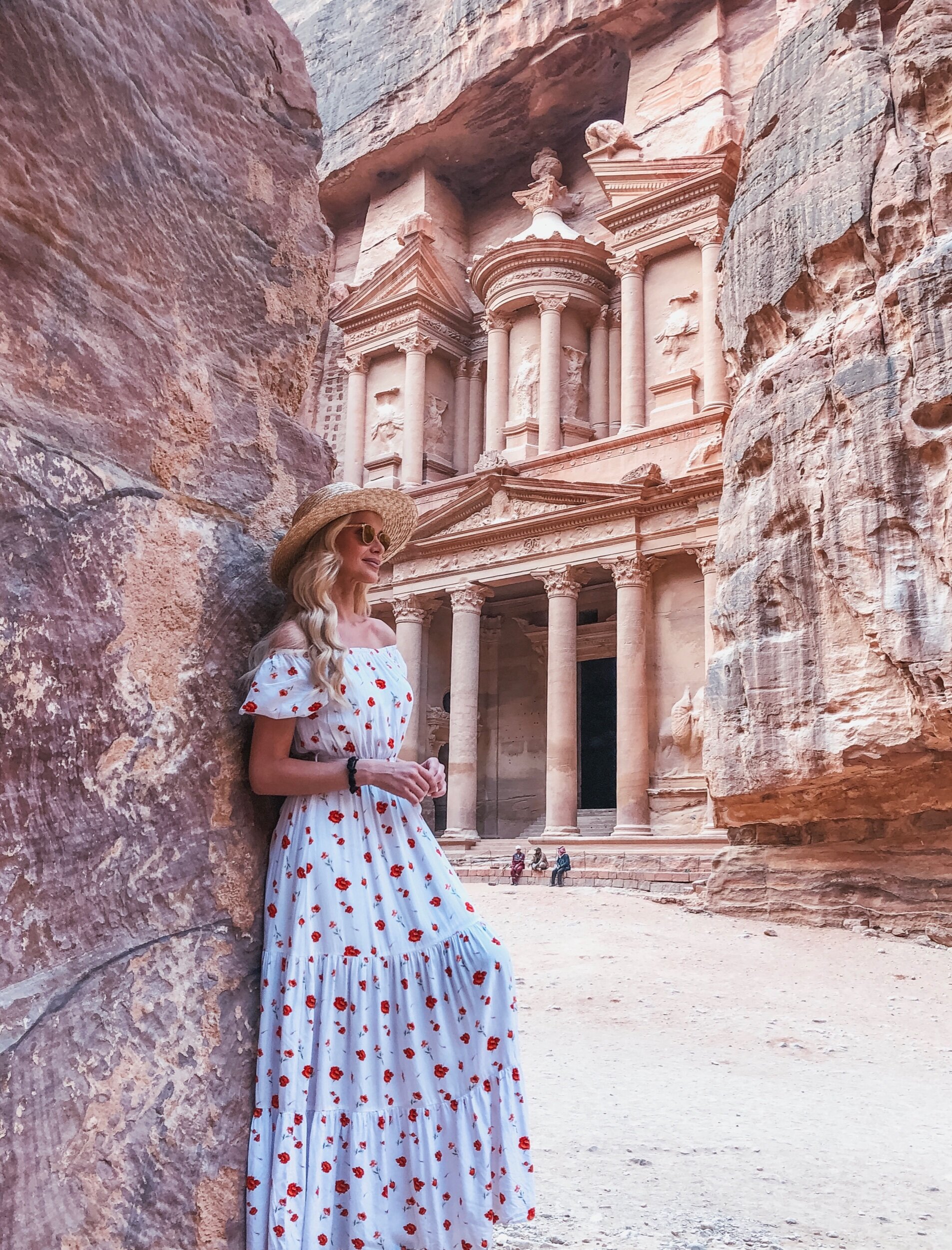 Follow my blog with Bloglovin
Jordan! What a magical country! You are in for such beauty and unique experiences. There is so much to see and do in Jordan. First things first. When heading to Jordan to begin your trip, I would fly into Amman and start your fabulous journey there. Amman is the capital and a city not to be missed. I strongly advise renting a car in Jordan, as it will be much cheaper than hiring guides or doing half a dozen tours. You can quickly and safely drive in the country, and it will save you time and money. You are also able to go at your own pace and be on your own schedule. I rented a car from MonteCarlo Rental cars. They were cheaper than the mainstream car rental companies. They picked me up from the airport and drove the 5 minutes to the storefront. They had a lower fee when dropping off the car in Aqaba compared to the other rental companies as well, which was great. I would for sure recommend them.
Remember, you will need a valid driver's license, a credit card for the deposit required, and I strongly recommend taking out insurance just to be safe. It's not worth worrying about in a foreign country if someone hits you. Sometimes people can drive a bit crazy in some of these countries. Many places take cards, but having cash is also very handy. I would go to a cash exchange in the town for the lowest fees and best exchange rate. At the airport in Amman, Arab bank has the best rate for exchanging money. My biggest tip in this blog. LISTEN UP! Go online before your trip, and buy a JORDAN PASS. No, I make no money from this demand, but you will save a lot by doing this. A lot.
There are a few different packages. I bought the "Jordan Wanderer" for 99USD. This included a 1-day pass to Petra, Free entry to all of the 40 main attractions in Jordan, and also covers your Jordan visa fee. This is a no brainer, so make sure you buy it before entry. You will need a paper version with you at all times, and each tourist attraction will stamp it upon visiting. The Petra night visit is not included in this, and you will need to go to the ticket office to buy those tickets if you want to go to that, which I recommend. Petra is magical by day, and at night it's a different vibe. Totally mysterious.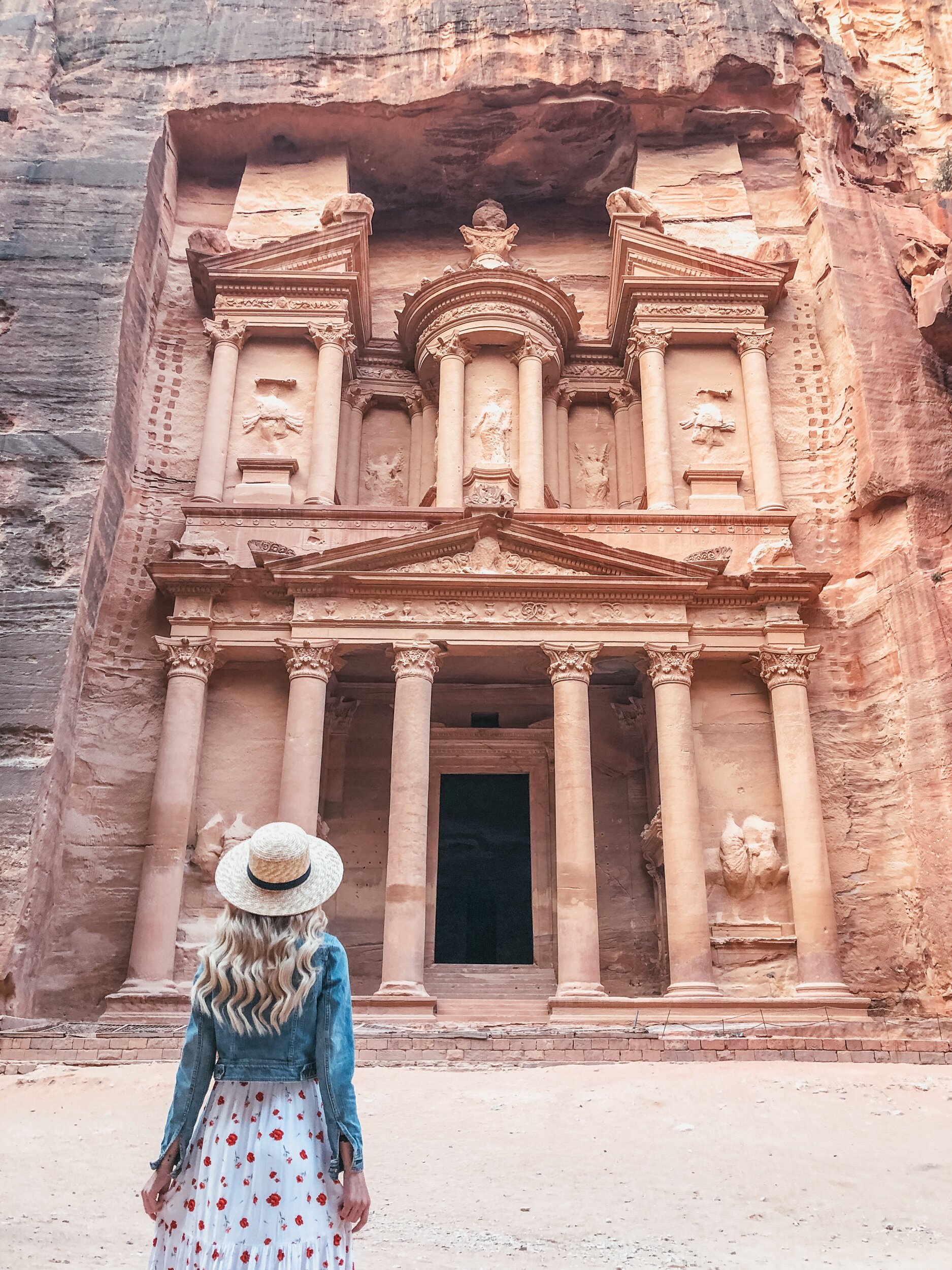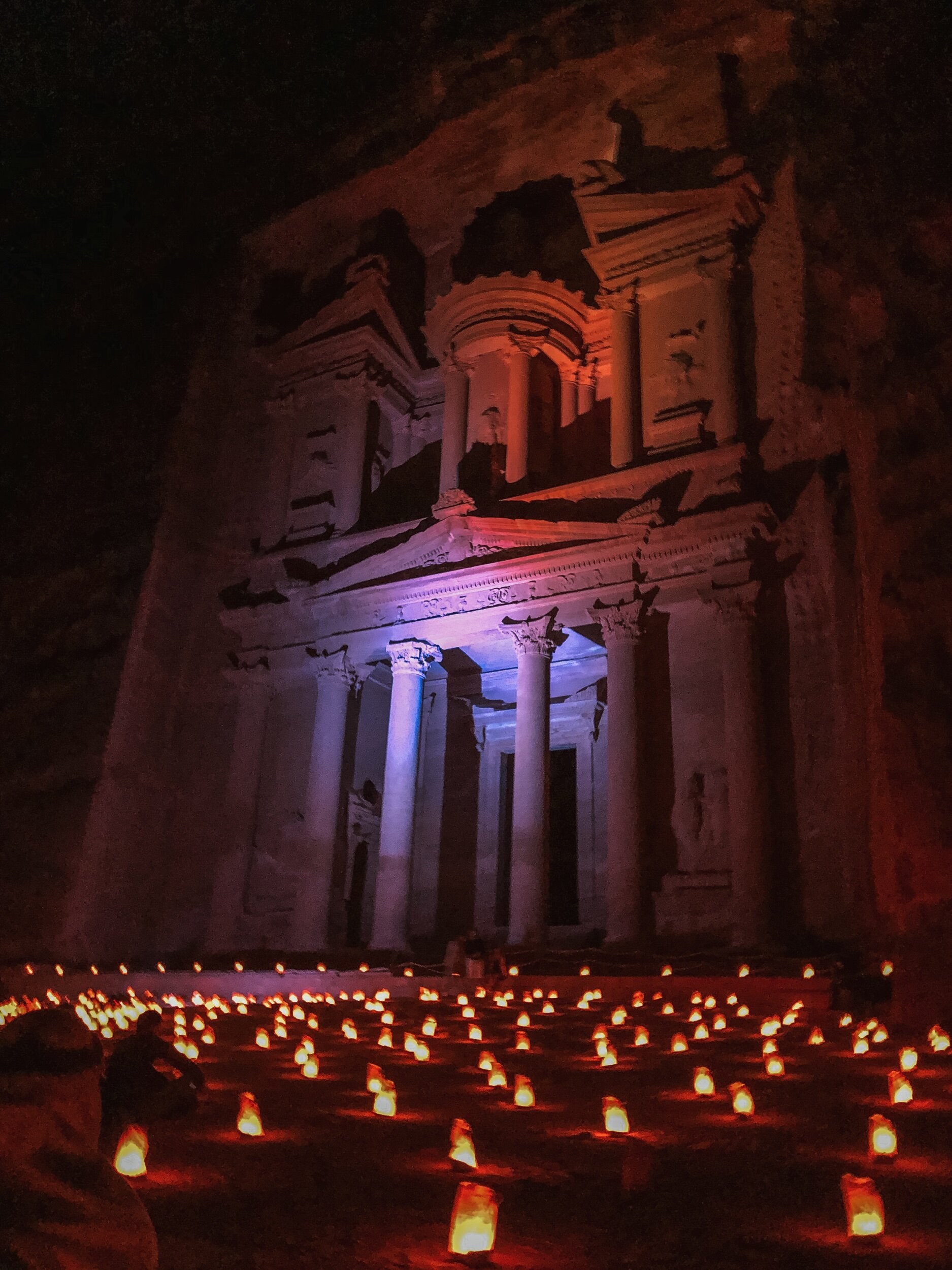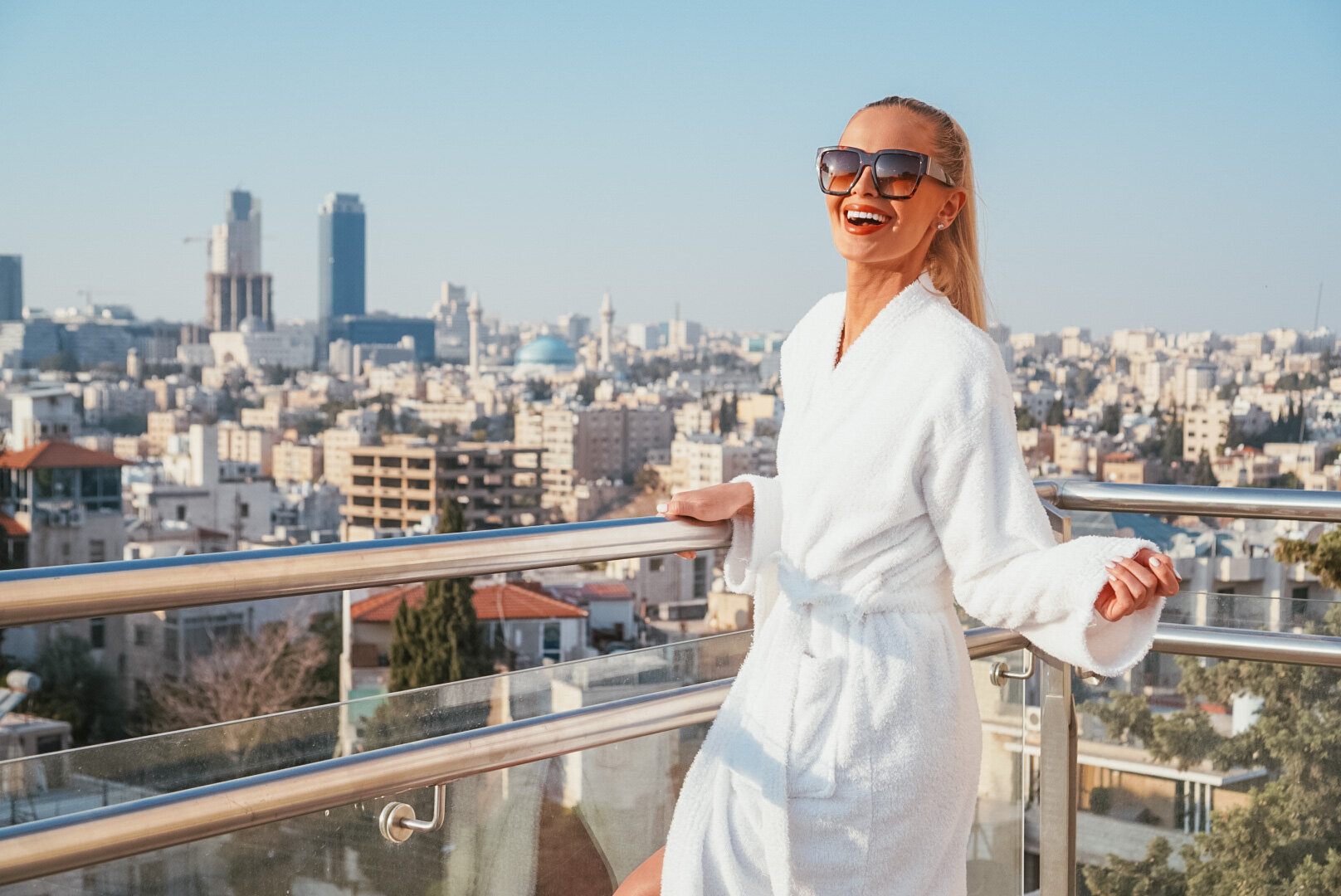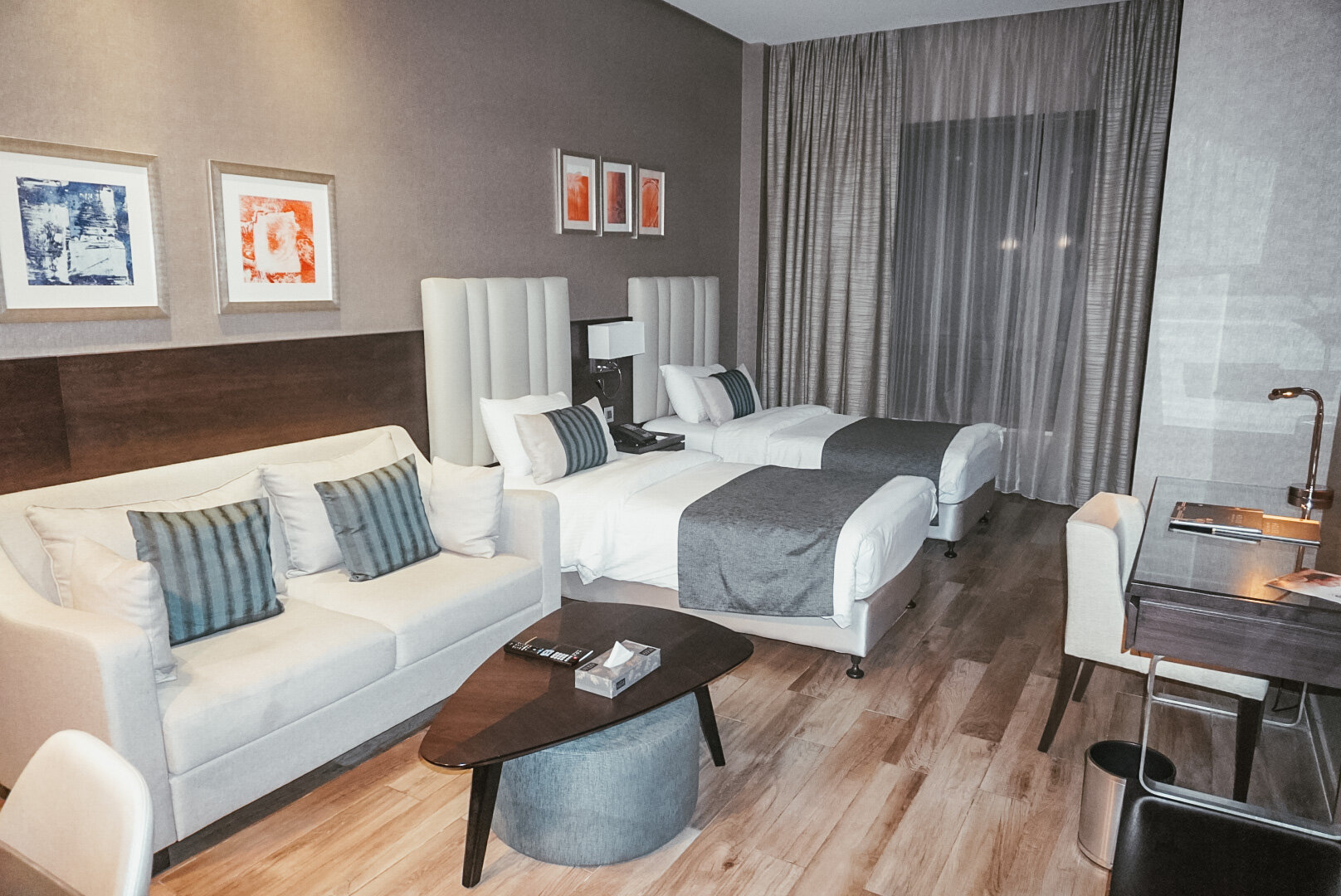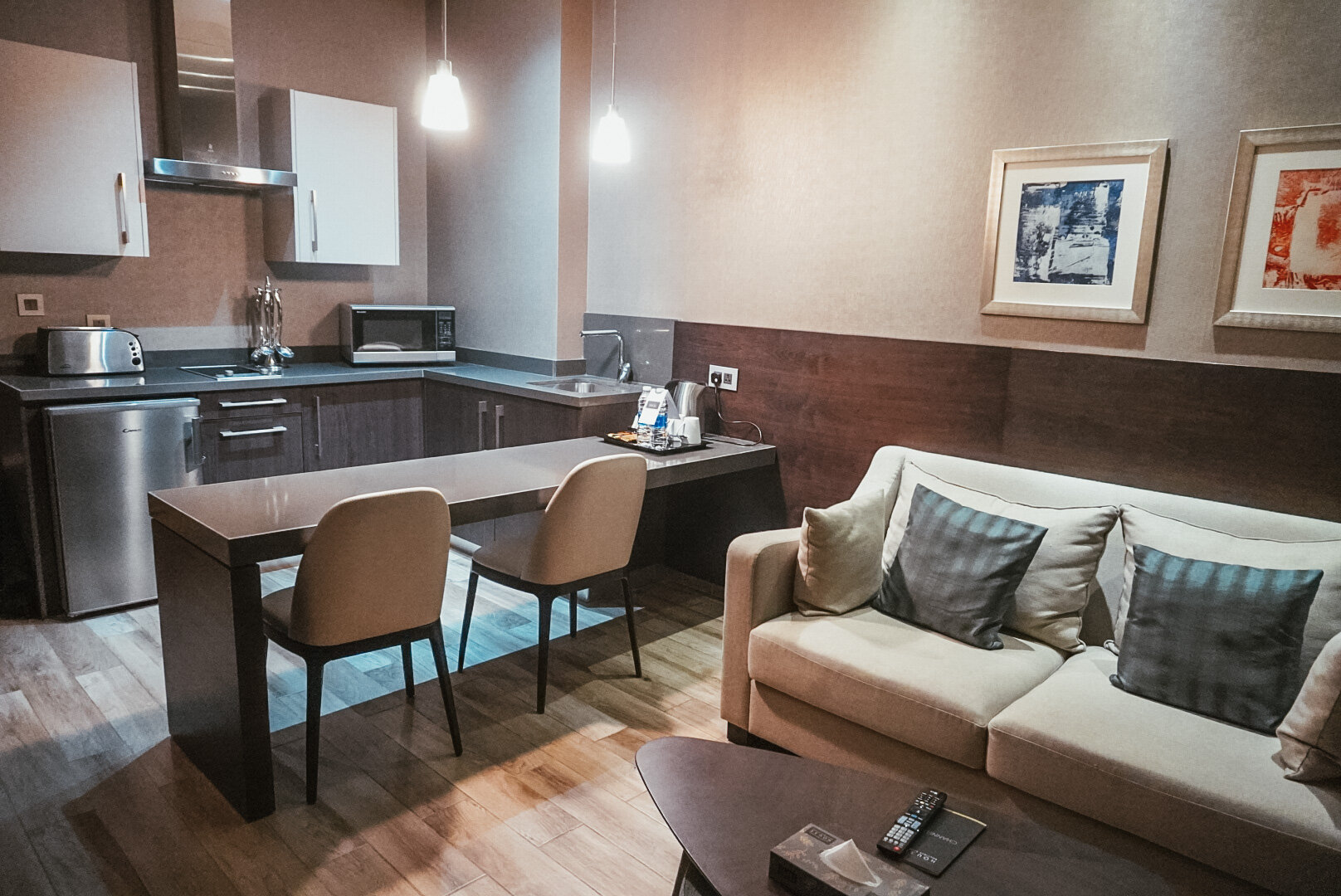 Accommodation; In Amman, I stayed at The House Boutique Suites. The hotel was very centrally located and perfect for Ashli and I. The check-in was a breeze, the staff was lovely, rooms super spacious, and they had an incredible rooftop with amazing views of the city, not to mention a fabulous bar for some cocktails in the sun. Another handy feature was the free laundry facility they had. The only thing you needed was detergent, which you could buy at the corner market for super cheap or on the property itself for a little more. The House Boutique Suites had free valet for our rental as well, which made it easy for us. We were very pleased with our stay.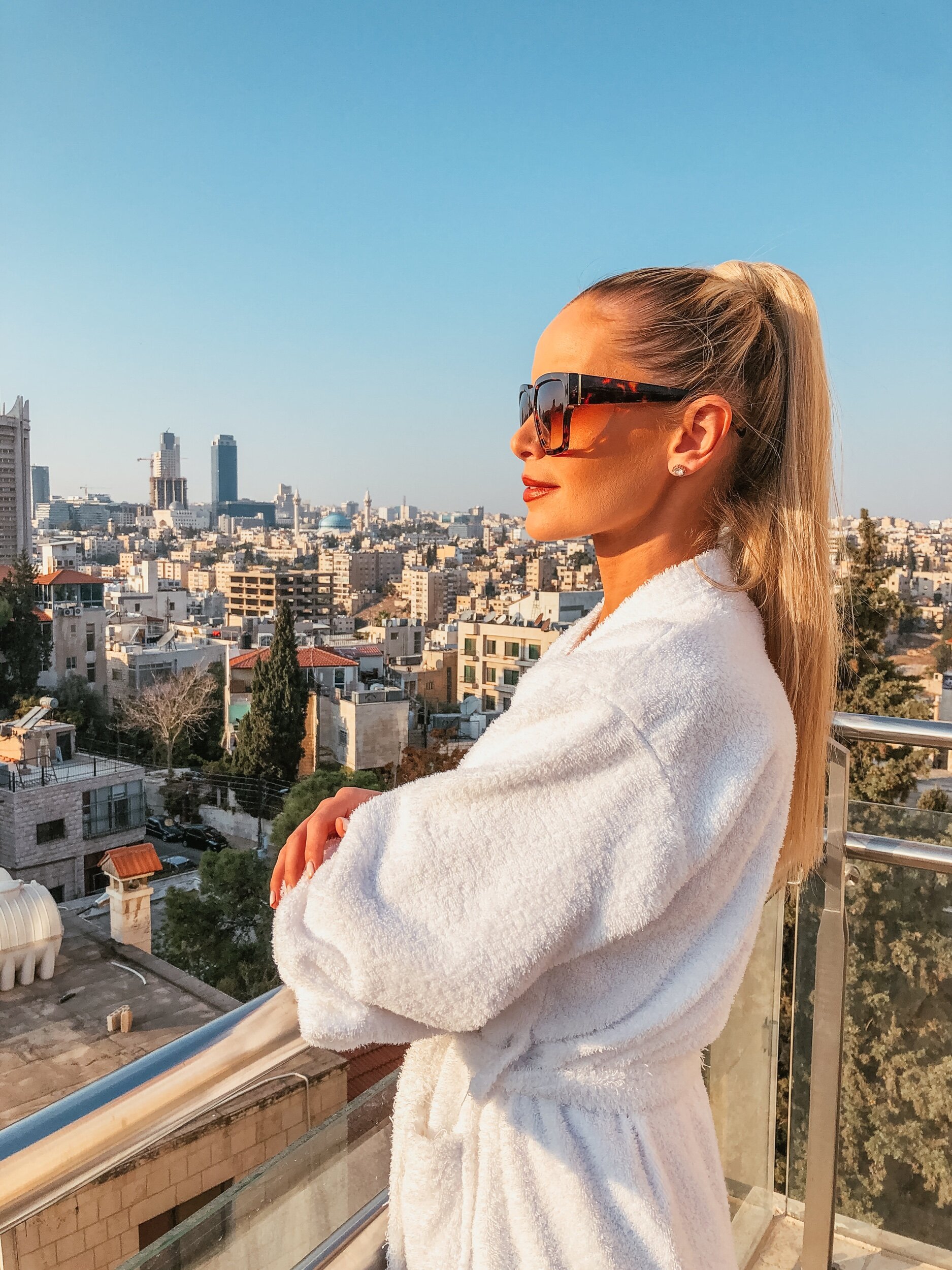 Visit the Amman Citadel, the Amman Citadel is a historical site in the center of downtown Amman. The historic hill was ruled by many various empires from sometime after 1200 BC. There is a mix of Greek, Byzantine, and Roman architecture. Here you can see the Temple of Hercules, A Byzantine church, and the Umayyad Palace. There is also a museum that came much more recently. The Citadel is one of the best sites Amman has to offer, and the views of the city are the best! If you're not much for history, at least come for the spectacular views over Amman and beyond. It's truly stunning.
Have a walk around the Roman Amphitheatre in Amman. Just down the hill 15 minutes from the Citadel is the Roman Theatre. This theatre holds 6,000 seats and dates back to the Roman period when Amman was known as Philadelphia. Yes, you read that right, Amman was called Philadelphia. This is a Greek word meaning "Brotherly love." Amman was named by Ptolemy II Philadelphus the Macedonian ruler of Egypt who rebuilt the city. It is free to stand outside and take photos, videos, and just take the site in like I did. If you would like to enter, I recommend using the Jordan pass for free admission. I've seen many Theatres, so I didn't feel the need to go in, but it is a pretty special place with centuries of history.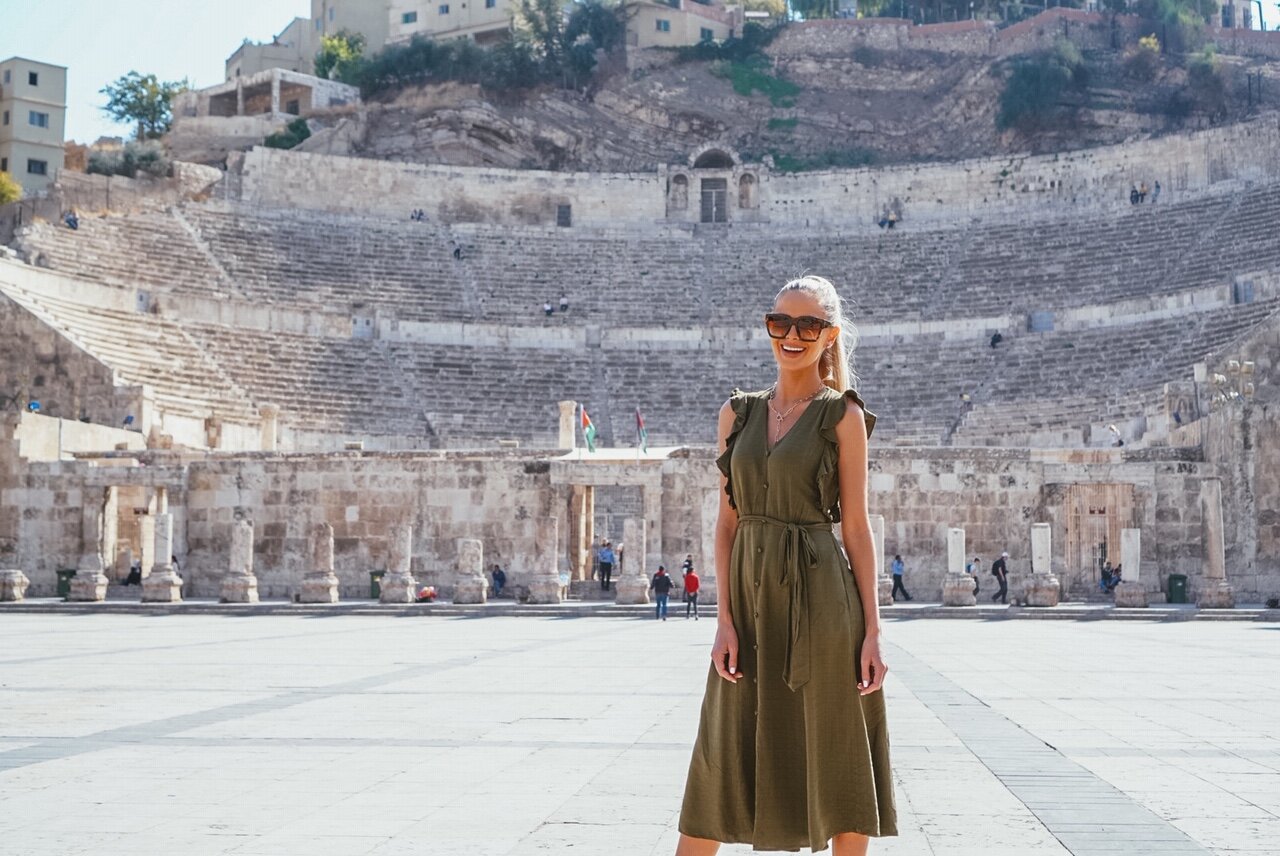 Take a Stroll around Rainbow Street. Rainbow street is a street close to the above sites I mentioned. It is a lively and bustling neighborhood with souvenir shops filled with tiny trinkets, cafes, restaurants, and even some rooftop bars. Enjoy some tea in this area. Cafes with coffees, tea, and fresh juices will dot the street, and there will be no shortage of choice. I recommend a sweet fresh pomegranate juice or a black tea. The tea culture is excellent in this area. Strangers will offer you tea to be welcoming. Accept it. Haha.
Eat some fantastic food. My Amman recommendations for food would be, number one, Shams Al Balad, a super cute and romantic restaurant overlooking the streets below and lovely views of the Citadel. There is also a gift shop attached to it with adorable items for sale. For other options, try out Hashem, Sufra, and Habiba sweets for any sugar cravings. Also, a famous spot in Amman is Habibah Knafeh, it's near to Hashem, and a must-try. If you make it to Rainbow street, enjoy some ice cream. There is also no shortage of ice cream, and gelato pops here.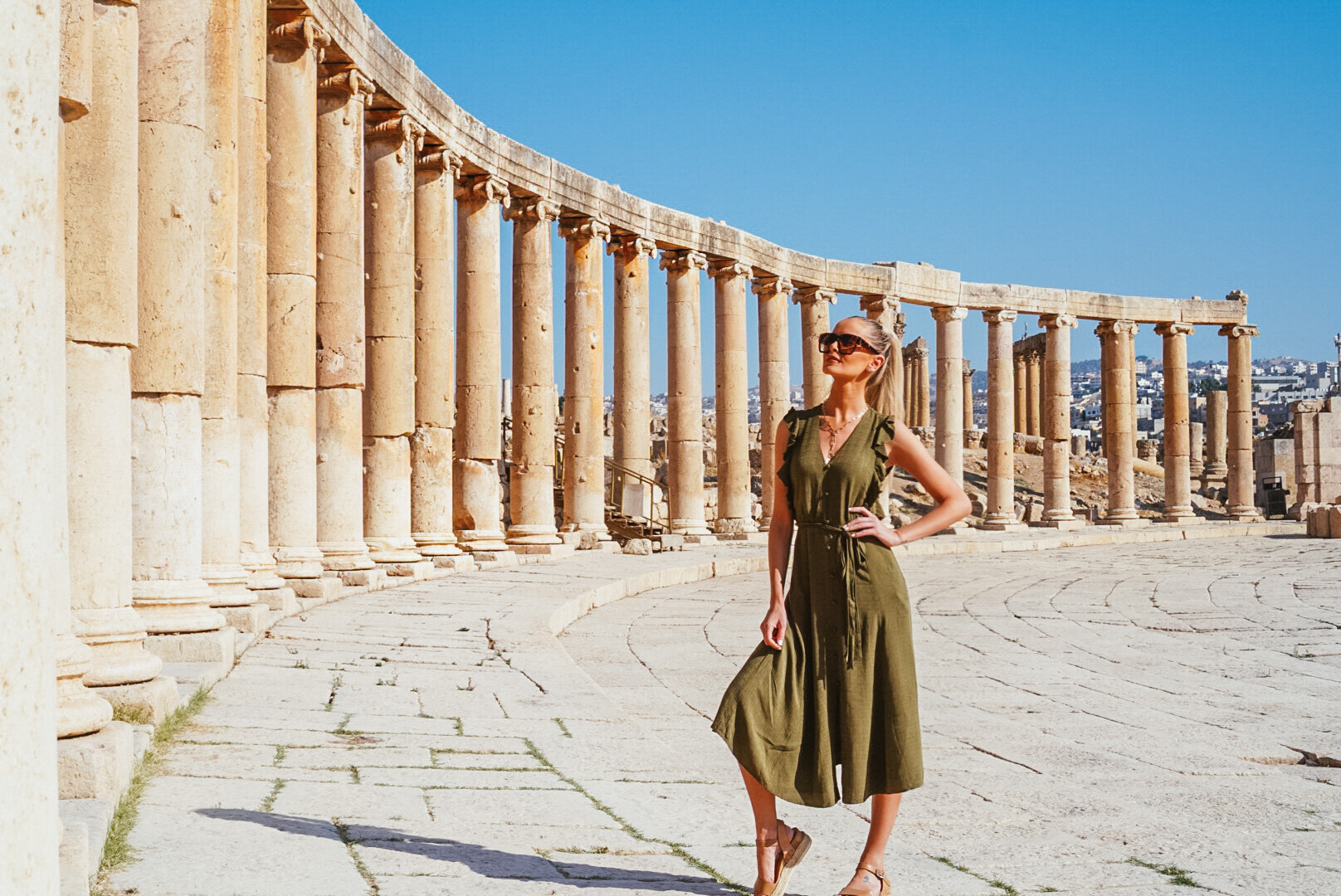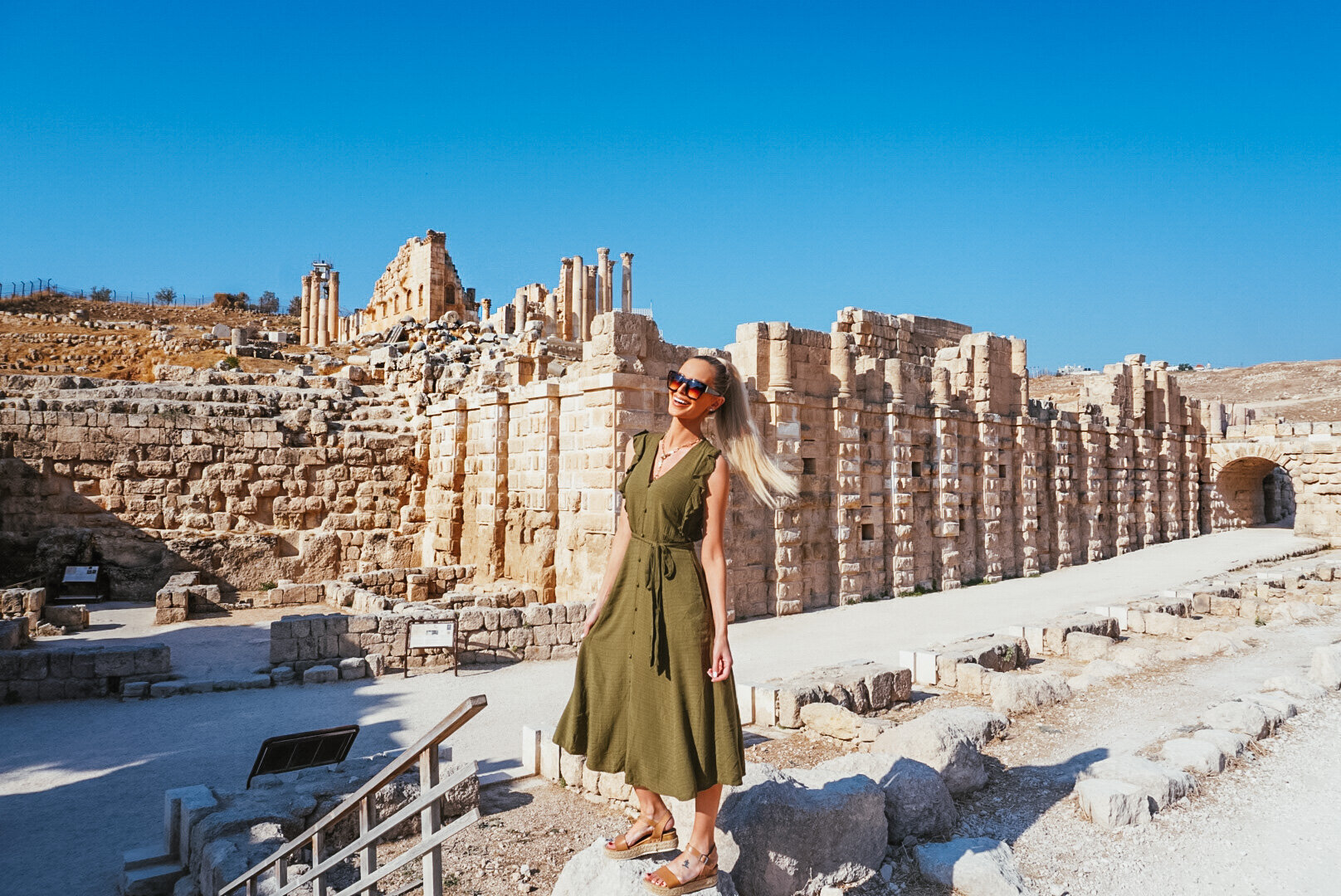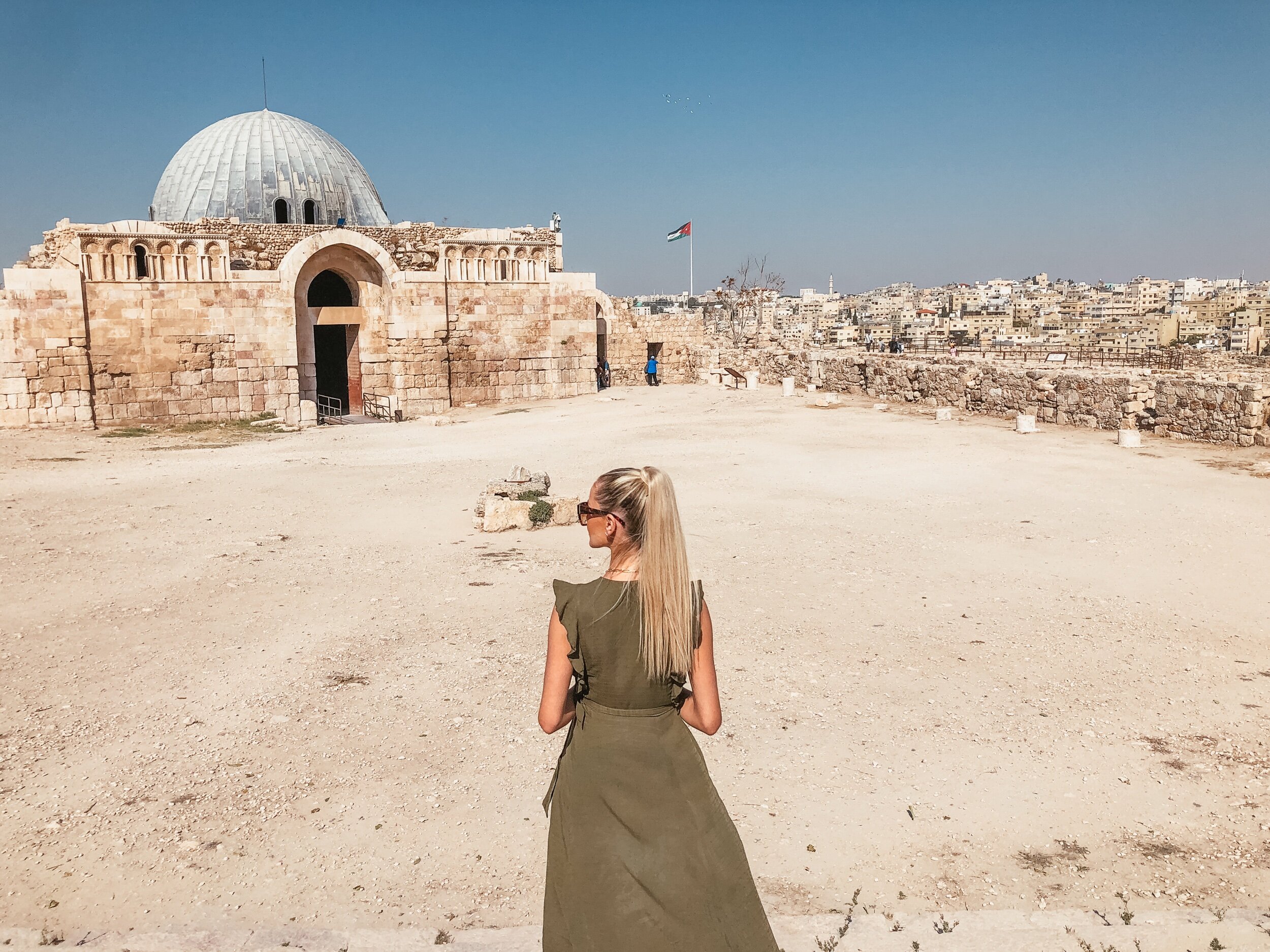 Take a day trip to Jerash. If you make it to Amman, then you can not miss out on Jerash. Jerash is up there with one of the best stops to make while in Jordan. The ancient City of Jerash. Truly beautiful and encompassing Roman ruins that spread far and wide. These ruins include the Temple of Artemis, Cardo Maximum, Nymphaeum, a public fountain, and the enchanting theatre. The Oval forum is also a spectacle, and a must-do photo opp while at Jerash. To get to Jerash, you can take a bus for cheap, hire a taxi round trip for about 70 dollars from Amman, or you can take my advice and rent a car, giving you all the time in the world to explore the ruins without any stress on a particular schedule. I would give yourself about four to five hours to really walk around the ruins and see them in their entirety. I think I was there for about three hours, but that is because I've seen so many ruins, and I have a short attention span, and it all starts to look the same to me. That being said, it really is a magical place and is not worth missing. You will enter this site free with your Jordan pass. Just remember to bring it along with you. Remember to have some change with you for any souvenirs, and also to use the toilets. Pack some Toilet paper as well.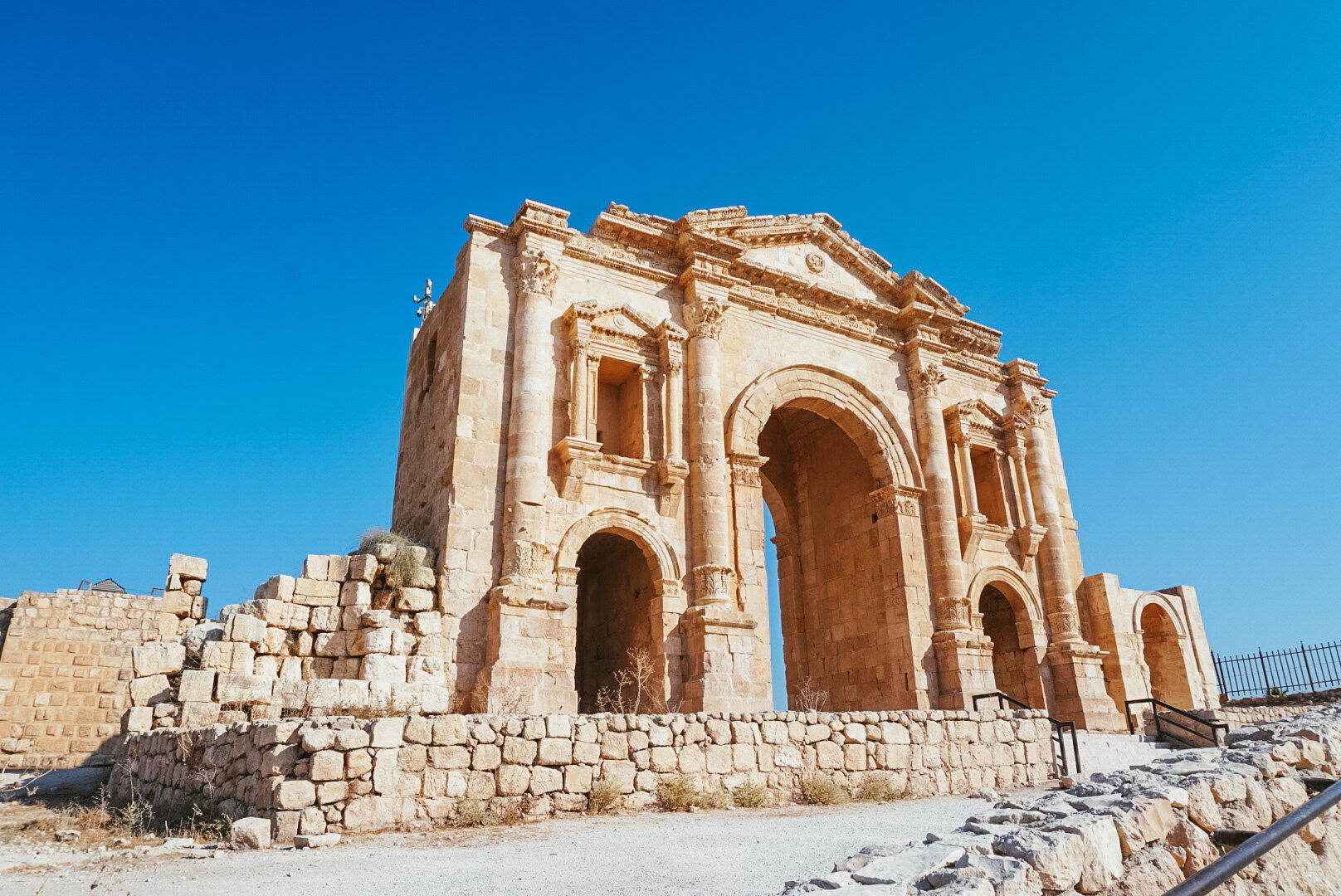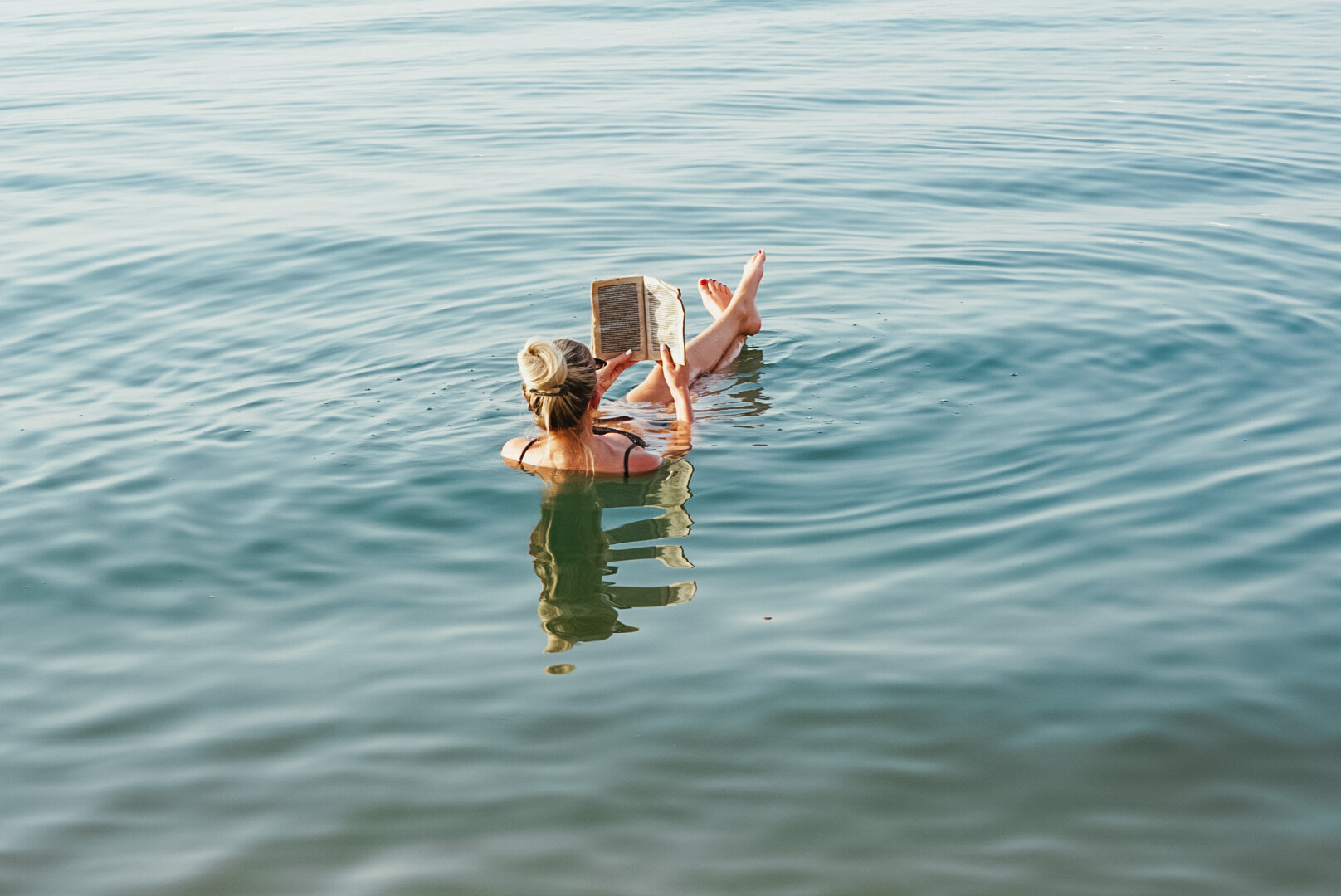 Amman to The Dead Sea; I chose to drive down and make my first over-night stop at the Dead Sea while making my way down South to Petra and Wadi Rum. On route, if the sky is clear, I recommend stopping at Mount Nebo. Mount Nebo is said in the Bible to be the very place Moses was granted a view of the Promised Land, and the place he lived in his final days. Religious or not, it's worth a quick stop. The views of the Dead Sea are incredible. You can also see over to Jericho and Jeruselum, (If the sky is clear), and there are some fantastic mosaics in the church there. The drive from Amman to The Dead Sea is about an hour, if you decide to make a stopover at Mount Nebo, then add another 2 hours or so into your schedule from driving there, walking around, and getting back on route and close to the Dead Sea.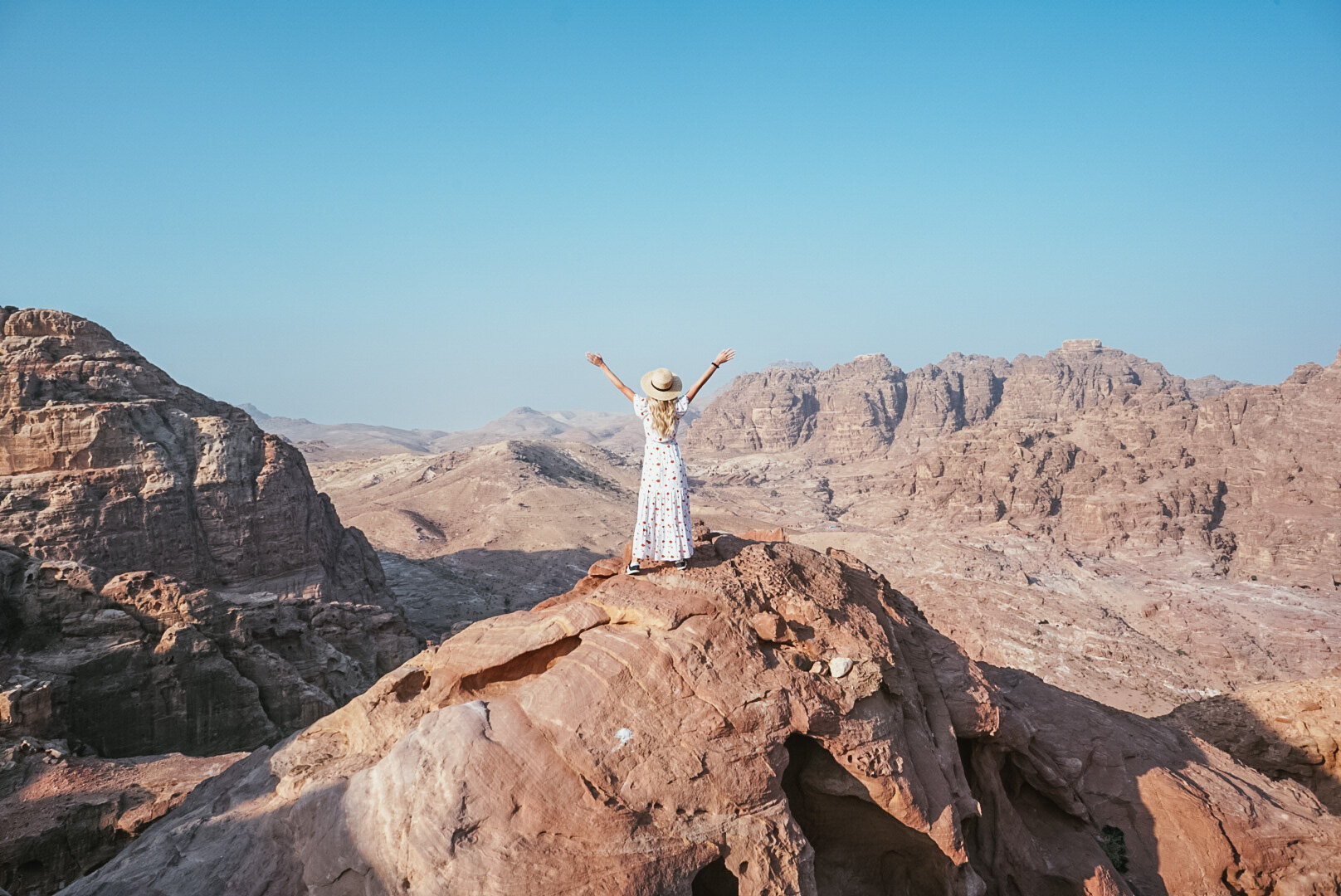 The Dead Sea; Getting to the Dead Sea was so exciting. A little information about The Dead Sea. It's called the dead sea because no fish or animals can survive in it, only algae can.
The Dead Sea is the lowest place on earth around 410-420 meters below sea level. It has about 34 percent salinity, while most oceans have about 3 percent if that tells you anything. The mud from the dead sea is famous, and many people cover themselves in it for softer skin, and to even heal some skin ailments such as rosacea and eczema. The clay-like mud was so much fun to cover ourselves in. You must do this on your Dead Sea visit. You wear the mud for about 15 minutes and then get into the water and wash it off after you can do a salt scrub to exfoliate. It's such a pleasant and relaxing experience. Getting into the dead sea kind of felt like swimming in a sea of olive oil. The texture of the water feels very oily. You slowly get in, the water temperature is pleasant, not so cold. And then you lay back and float. For some reason, I was excellent floating on my back, but terrible at floating on my stomach, where Ash experienced the exact opposite. I wonder why. The one thing that I was bummed about is the area where the hotels are, such as The Hilton, where I stayed had very typical looking beaches with no salt build-up. If you want to see the area where the shoreline is covered in crystallized salt with a beautiful blue tint, then you need to drive about 20 mins South of where the resorts are. You will see a big parking lot and a lookout point. You can park your car and walk down to the sea. It's a bit of a walk, but the water is so beautiful, and the views are amazing here than the resort area. Don't miss this part. Also, make sure to buy some good Dead Sea mud mask products to take home, even just one. It's so good for the skin, and it's a great way to relive your Dead Sea experience while back home in your shower.
If you choose to spend two nights at The Dead Sea, we only had time for one sadly and missed out, but I would highly recommend taking a morning day trip to Wadi Al Mujib. Wadi Al Mujib is a winding river canyon 70 km long, which spills into the Dead Sea. It is famous for its swimming, hiking, climbing, and amazing views of the terrain and mountains below. If you want an adrenaline rush, then come here. It's meant to be beautiful and fun. You can literally wear a life vest and float down the river, just be sure to pack comfortable tight shoes, a one-piece suit, and be prepared for little fish to nibble on you. Don't worry, it doesn't hurt. Many people I know have said this was a real highlight to their Jordan trip and was very refreshing and adventurous. If you have the time, it's worth checking out.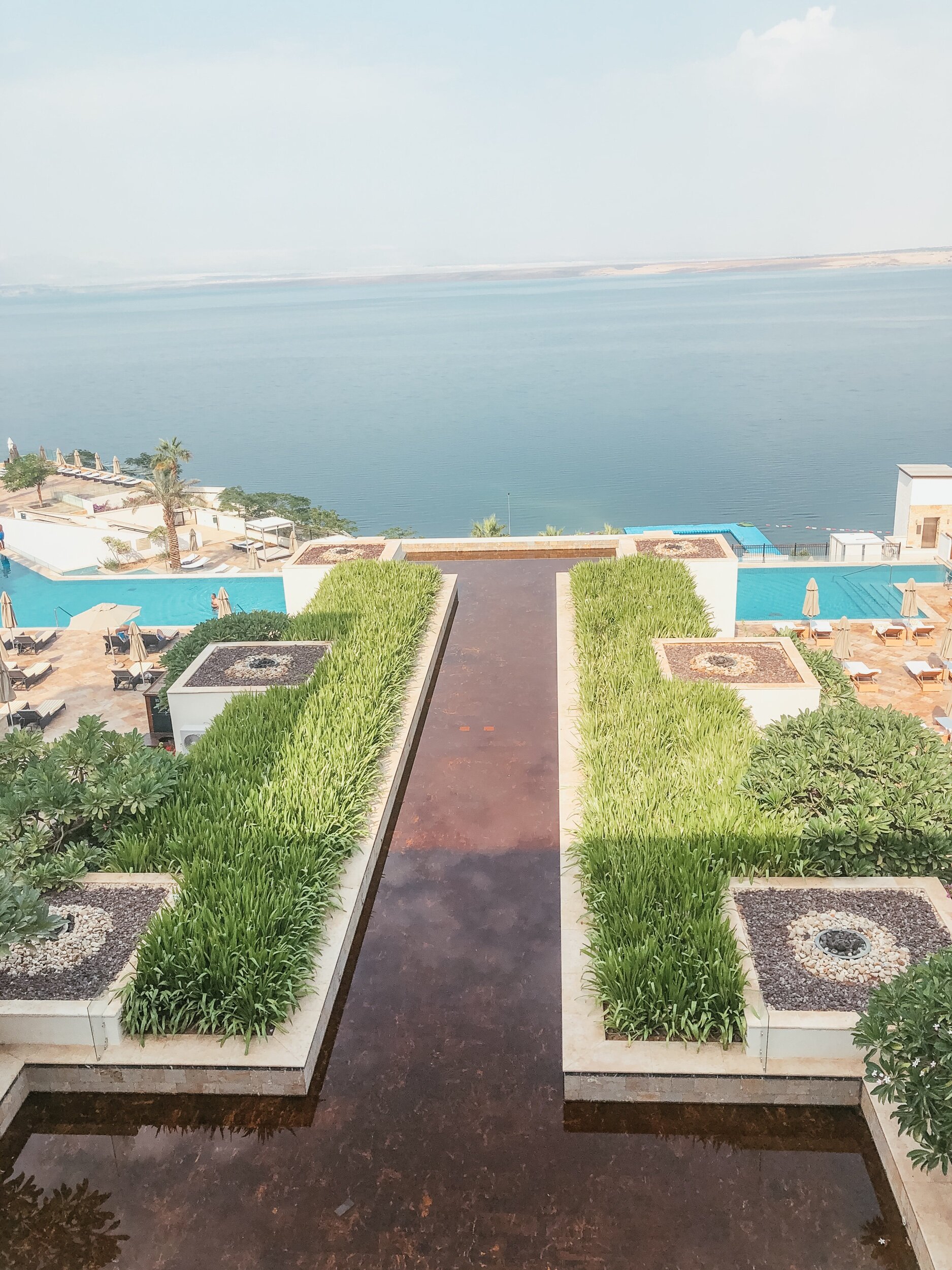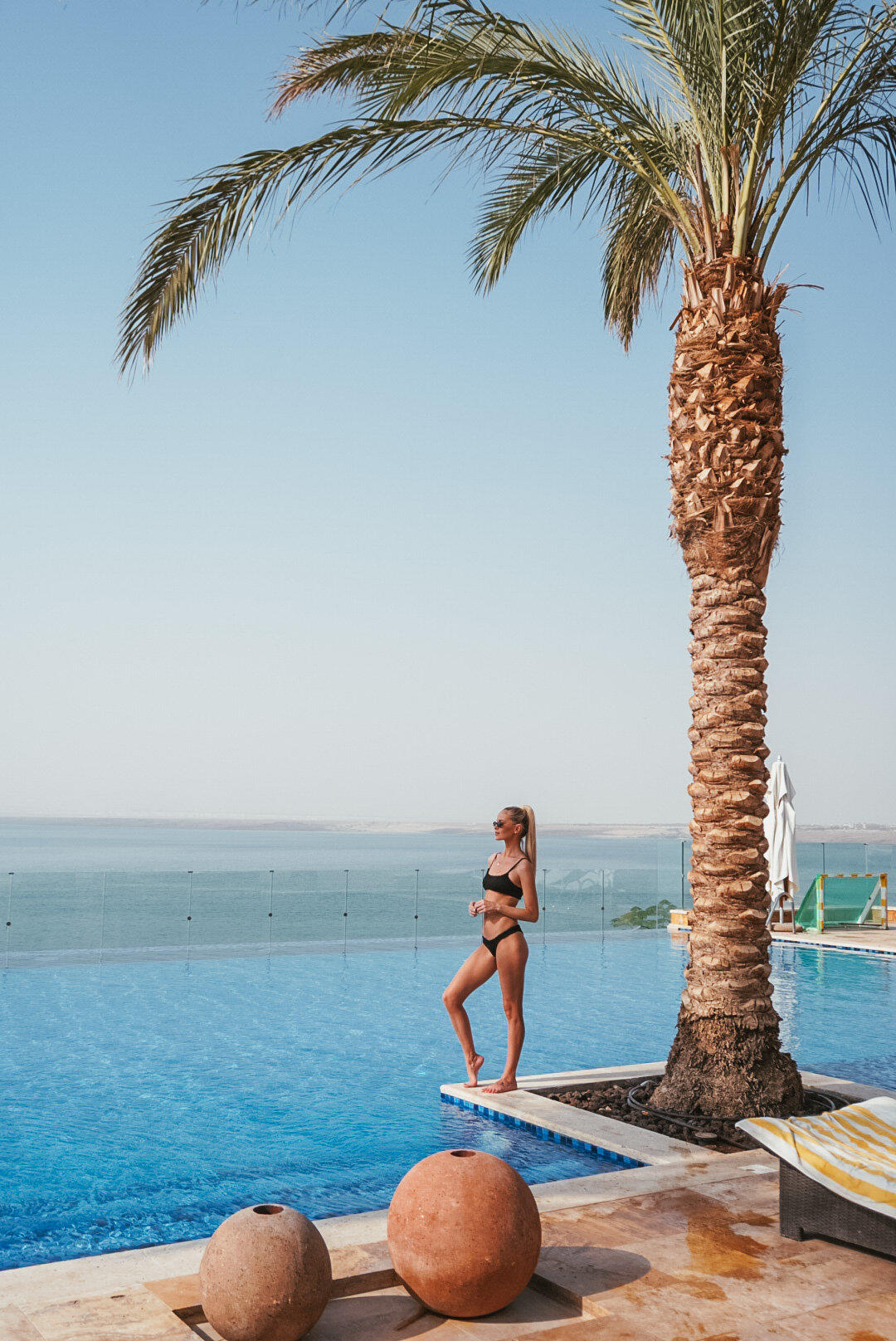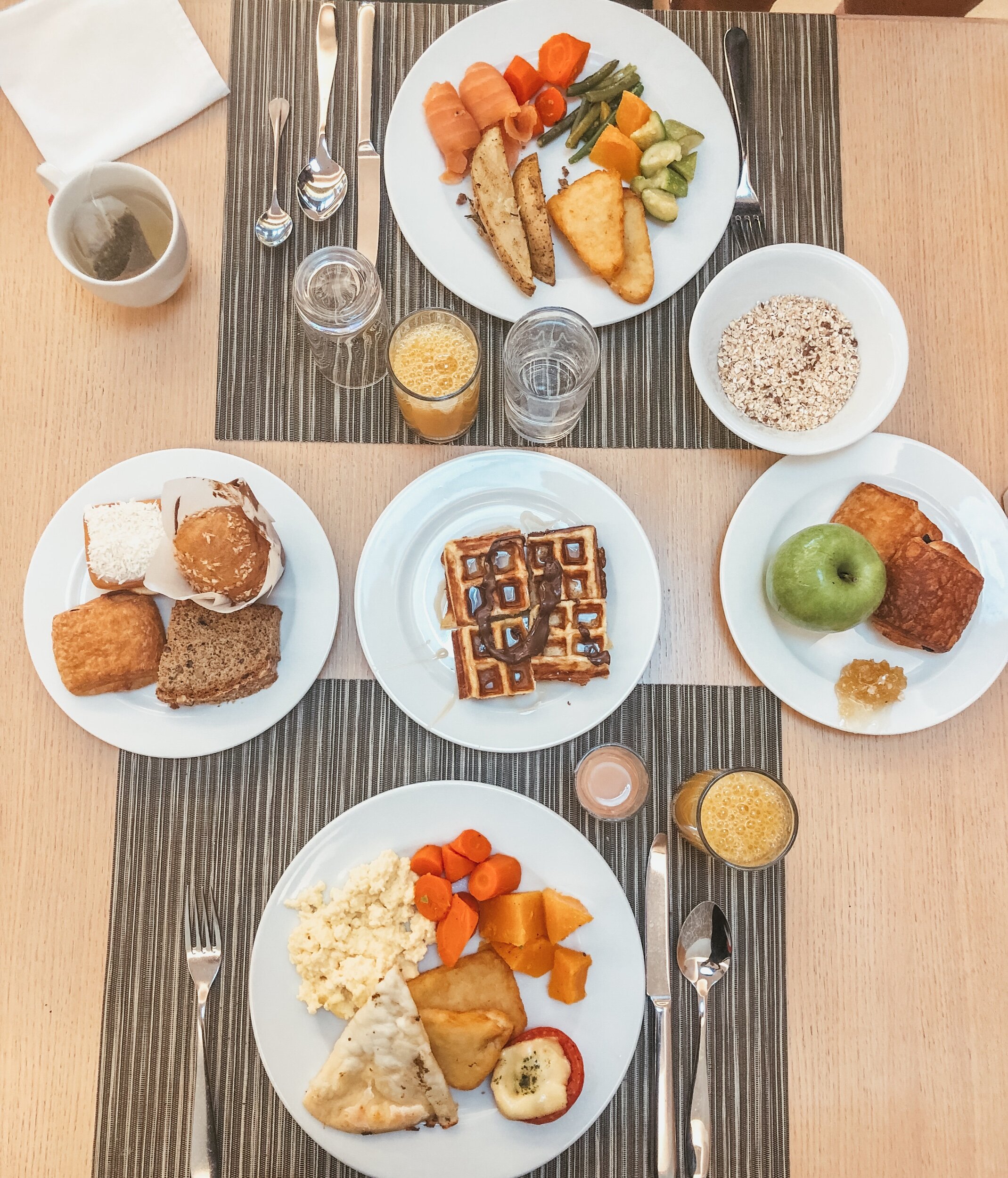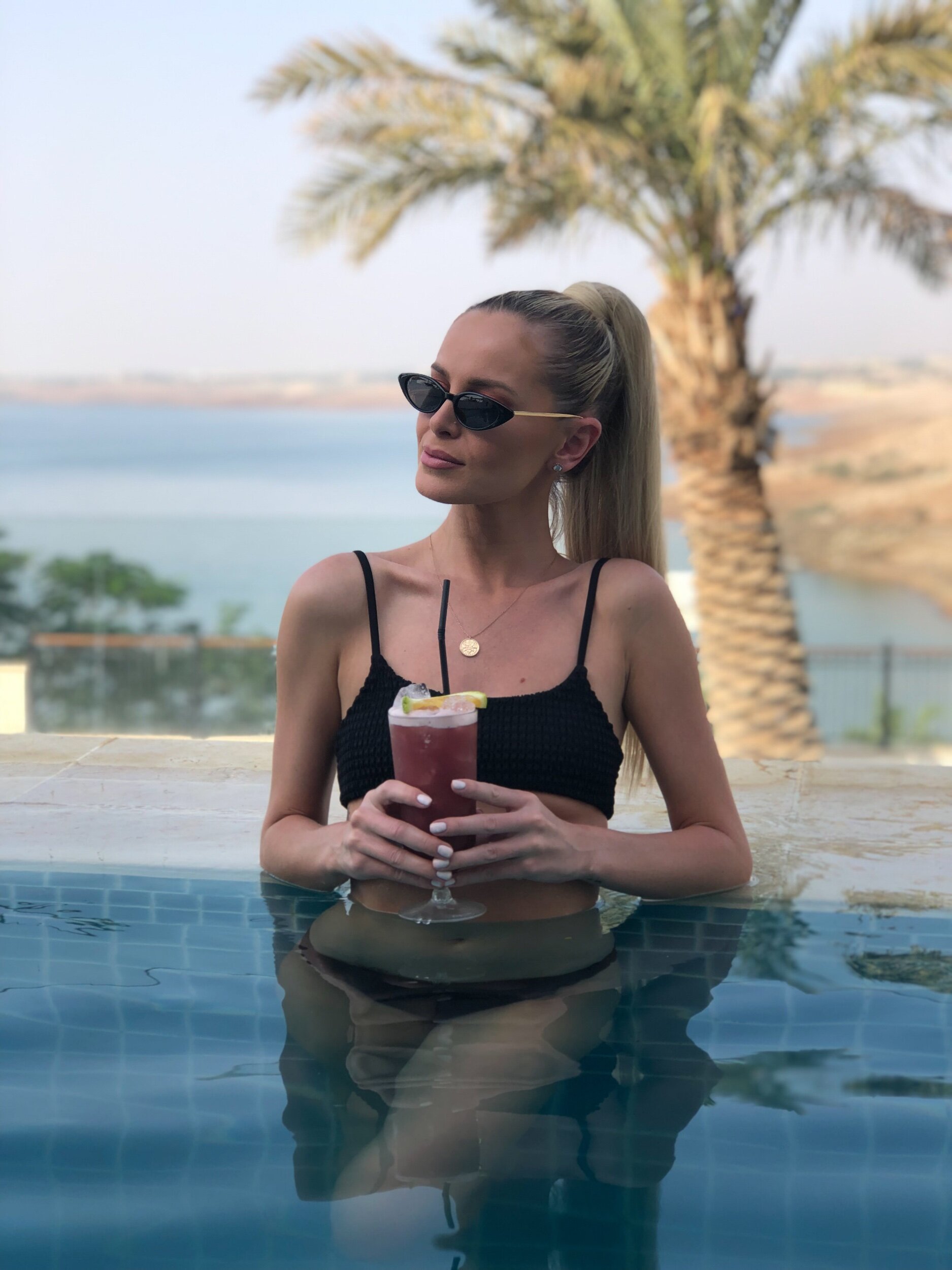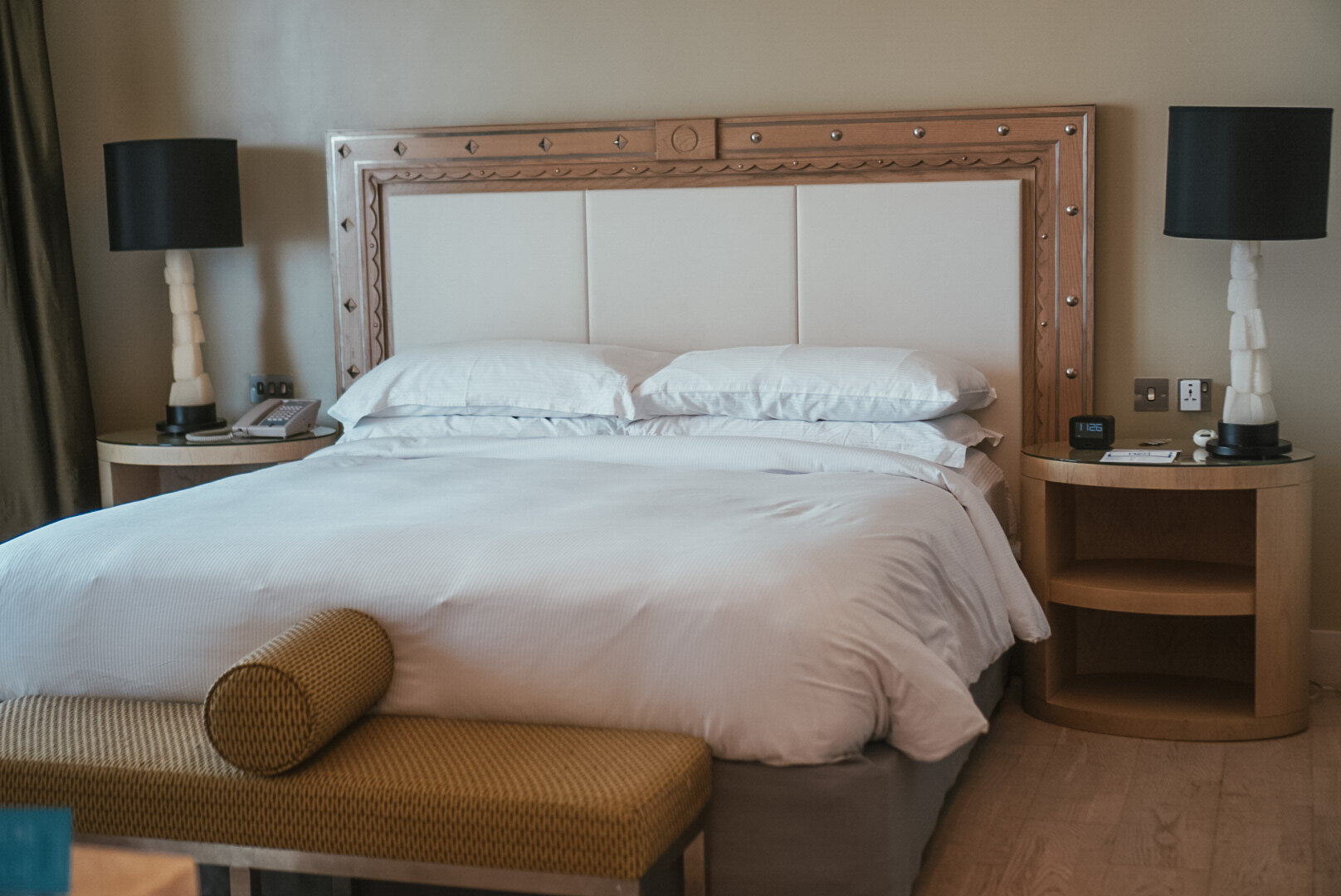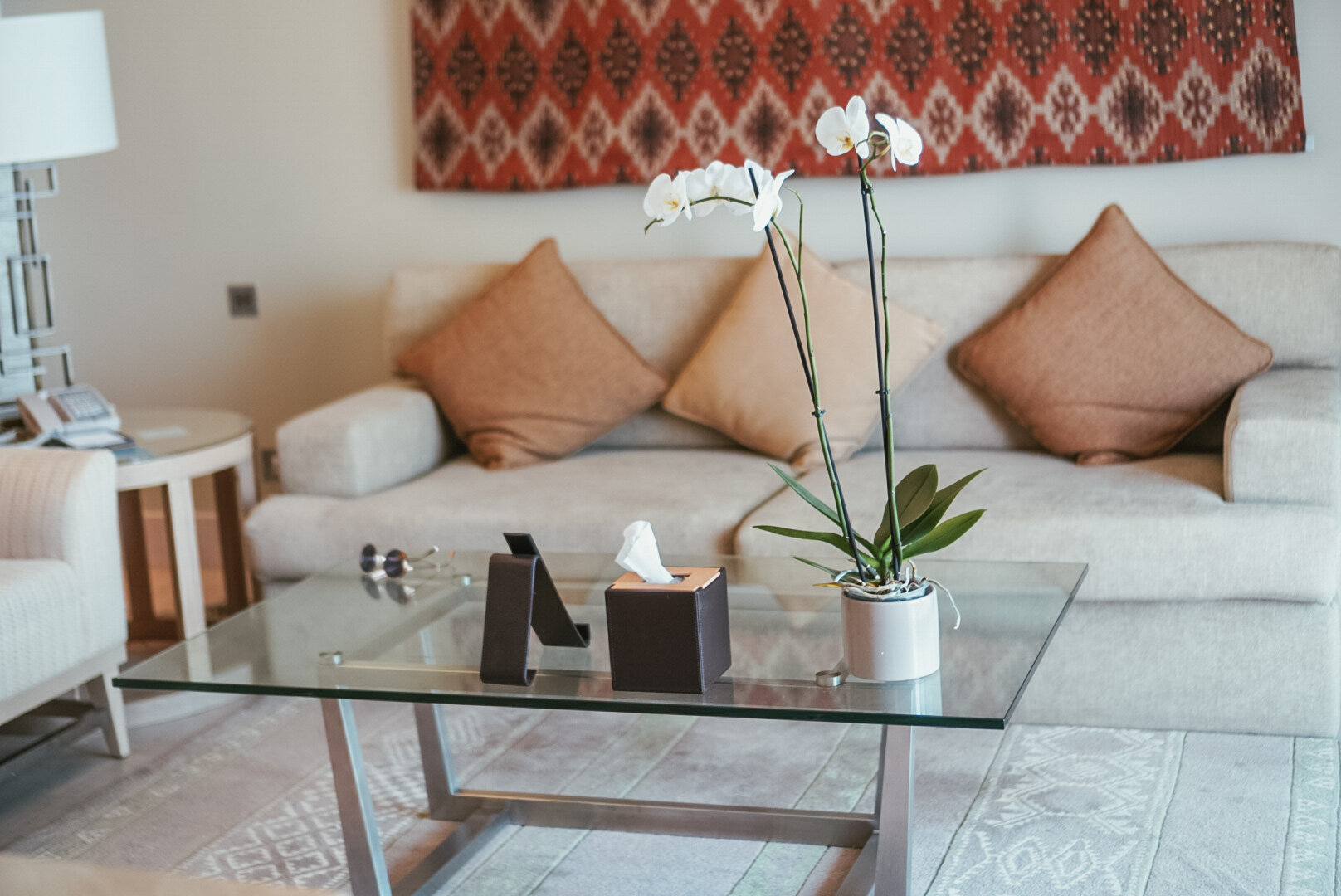 Dead Sea Accommodation; I stayed at The Hilton Dead Sea, and it was great! It had 3 really amazing infinity pools, a Lebanese and Italian restaurant with live music, and incredibly spacious modern rooms with sea views. Not all have the sea views obviously, but I would definitely suggest paying the extra little bit to get a sea view. The sunsets over the sea are incredible. It's worth it. Ash and I loved having a few cocktails in the pool and watching the sunset from the pool and hotel balcony. The check in and out were fast. We got welcome drinks upon arrival. The buffet breakfast had everything one would need. The staff was so sweet as well and the rooms were spotless. This is a great choice when staying at The Dead Sea.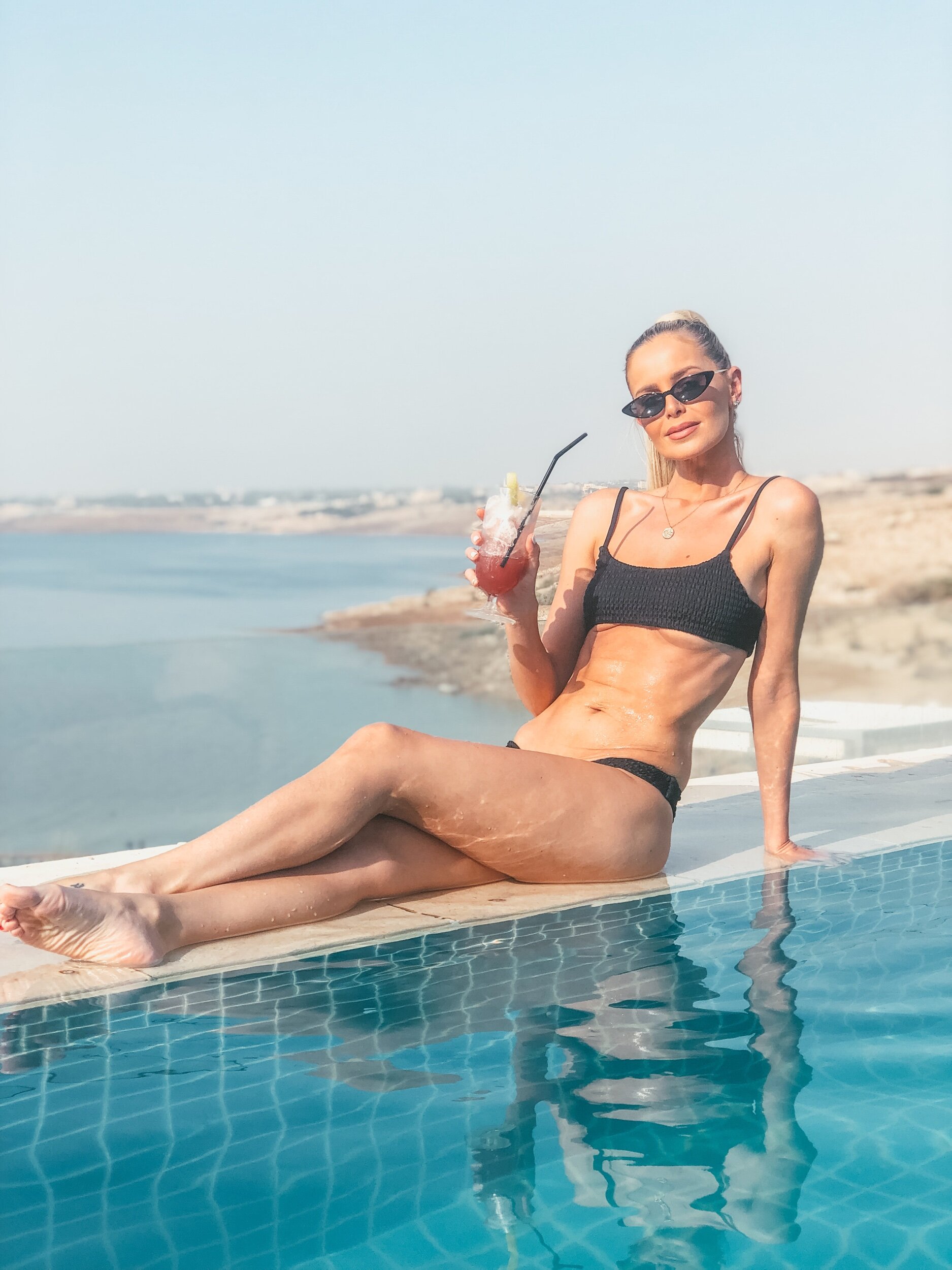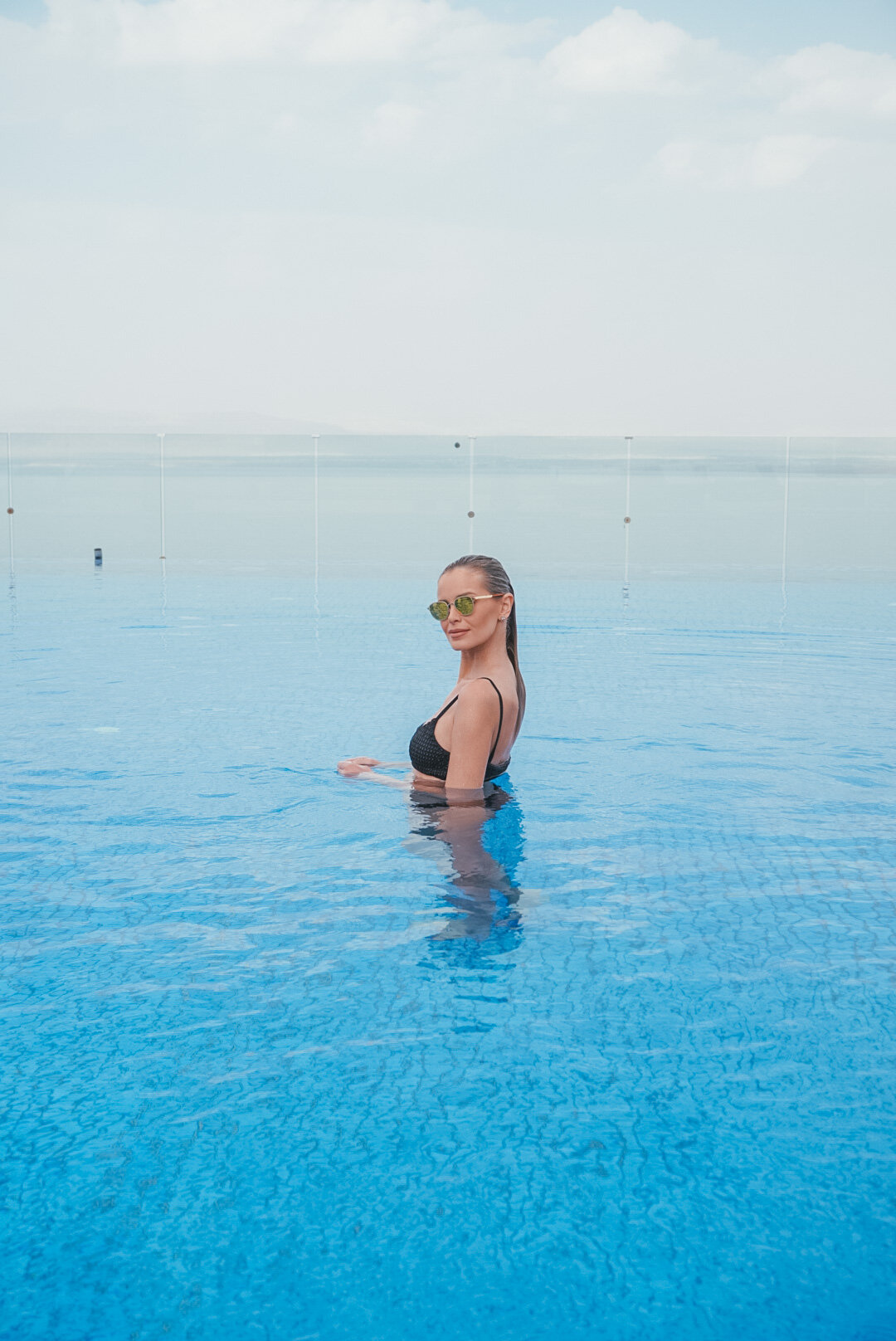 At The Hilton, there is also a private beach down below the property just for Hilton guests where you can find beach loungers, towels, a swimming area, and staff who are equipped and ready to cover you in Dead Sea mud from head to toe. I didn't put the mud on my face, but I had it everywhere else. It was so much fun and such a unique experience. Also, remember to get the free certificate from them, showing you have been to the lowest place on earth. It's a cute little souvenir you can bring home to remember your experience by. We were delighted with our accommodation at The Hilton Dead Sea. The one bummer about the hotel and The dead sea is all the flies. They are everywhere. It may be wise to pack some bug spray if that even would repel the flies? They don't bite but are a nuisance.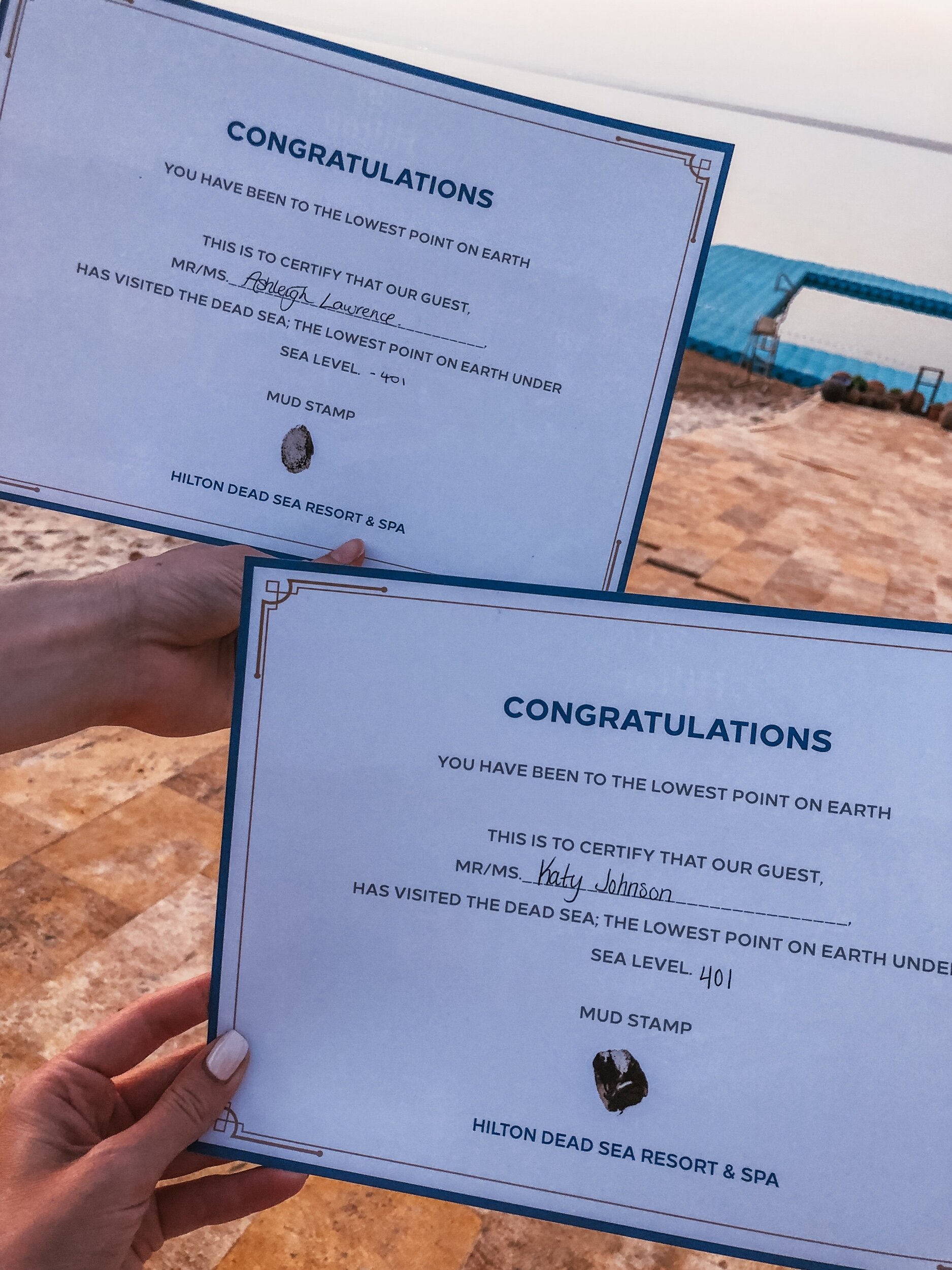 The Dead Sea to Petra; The Dead Sea to Petra is about a 3.5-hour drive. Be prepared to drive through the mountains up very steep inclines. I about freaked out, driving around some of the curvy and narrow slopes. My heart was racing. I'm not really sure why. I'm not afraid of heights, but I think that day I was. Haha. There are two ways to go to Petra, the first you can take a left sooner than the other route, I'm not sure which route or if both have the mountains, but the way we took was to continue straight and take the second left. This was a very scenic route. There were times when we wouldn't see another car for an hour. It was through mountains and on narrow one-lane desert roads. I was intimidated, but not because the roads are unsafe but because you feel like you're in the middle of nowhere. If something were to happen, there's not much service nor anything for miles. Scary thought, but happily, we had no issues.
I suggest doing more research on both routes and take the one less windy as that really gave me anxiety, and again I'm not even someone afraid of heights or narrow roads. The drive to Petra is beautiful and desolate. Some miles feel as if you're driving into infinity with nowhere to go. The views of the mountains are breathtaking and make you genuinely feel so minuscule. Don't rush this drive, don't your time, allow for it, so you can stop and take photos. Take it all in and enjoy it. It's stunning and almost otherworldly. In 3.5 hours, you will arrive in Petra if you drive directly.
Petra. What exactly is Petra? Petra is an ancient city in Jordan that is only accessible through narrow, rugged, and steep gorges and canyons. It was said to be inhabited as far back as 9000 BC and was a thriving and bustling trading post along the silk road. Petra was abandoned mainly around the time of the 8th century and only used for centuries by shepherds and nomads. It was only in 1812 when the city, once lost, was rediscovered by a Swiss explorer named Johann Ludwig Burckhardt. It then becomes a world-famous and one of the most significant archeological sites in the world. Petra also found itself on the "7 Wonders of the World" list. It was also awarded as a UNESCO World Heritage site in 1985. This drew scholars, archeologists, and hundreds of thousands of tourists. Petra is also called "The Rose City." The colors of the stone in which the buildings were carved into are a lovely shade of rose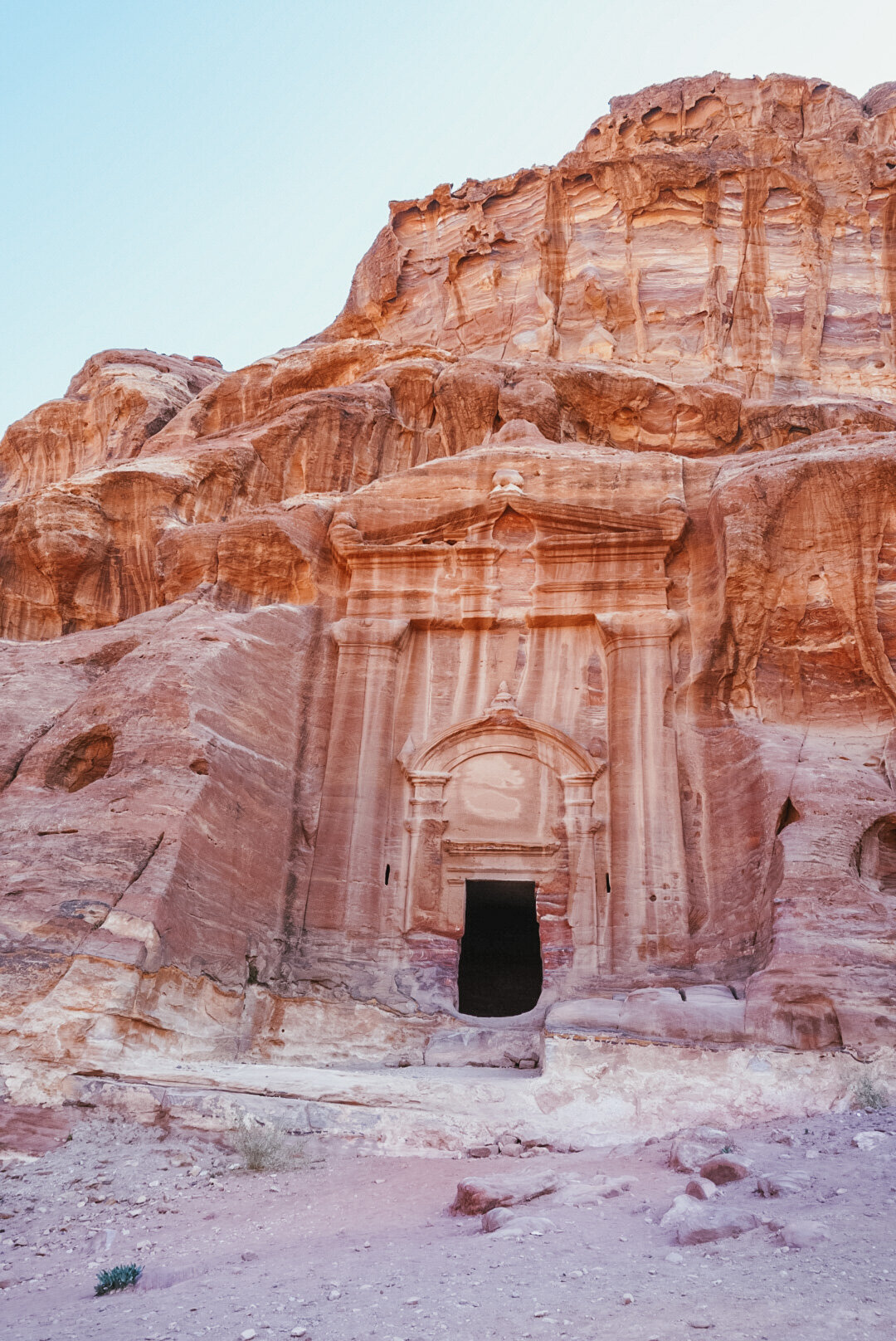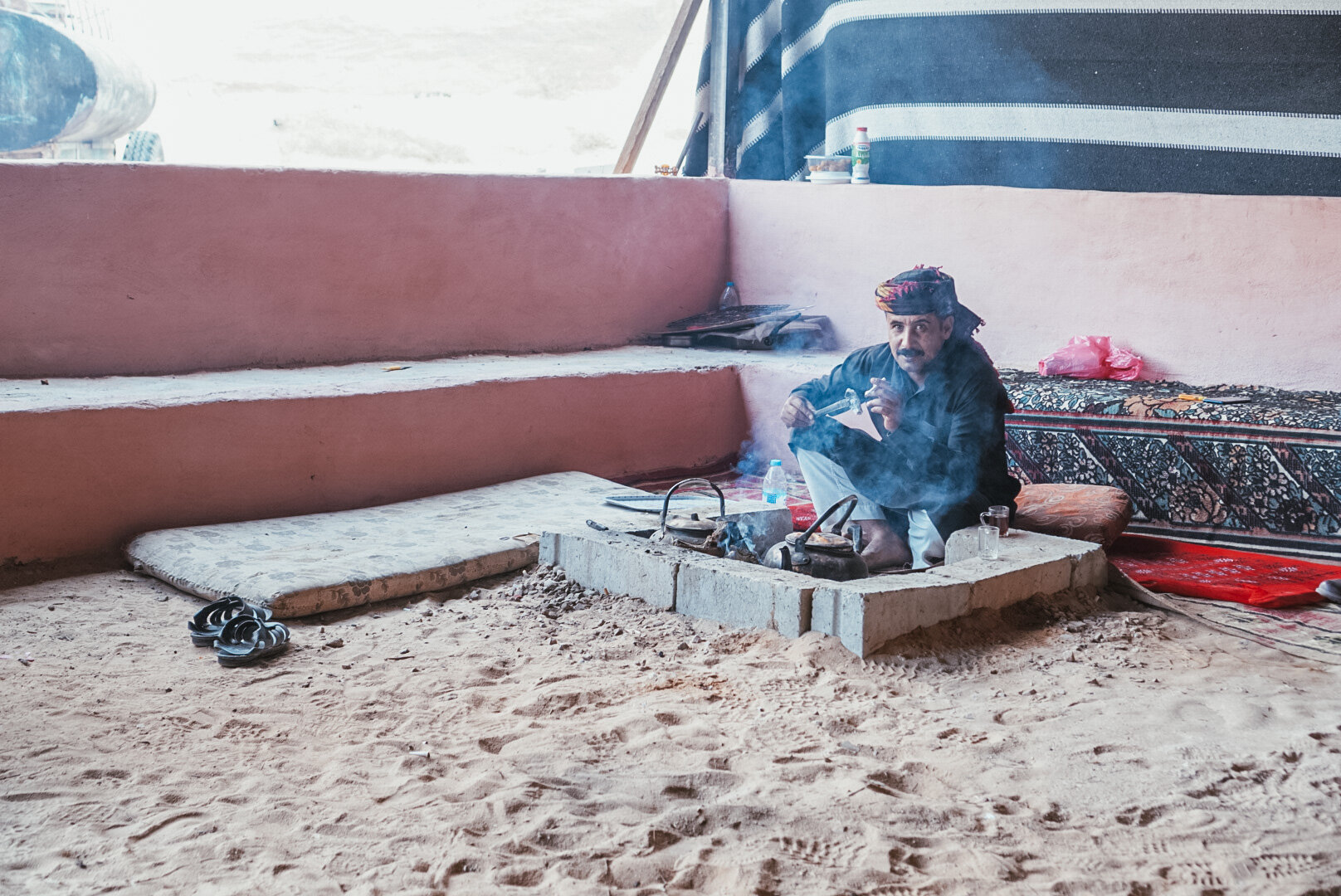 Back to our journey now. Ashli and I arrived in the Petra area and to our hotel camp at about 3pm. We checked into our hotel, The 7 Wonders Luxury Camp. Not to be confused with the regular 7 wonders, as they are owned by the same company, but one is a little higher end. We rented out one of the white dome rooms, which was cool to do. The hotel staff was really lovely, and the room was very unique. My favorite thing about the hotel was that it was outside of the city of Wadi Musa, where Petra is, so there is very little light. You could see the stars very well, you could also see the lights in the mountains where the Bedouin camps and other hotels are. It looks so idyllic, like a storybook. It lit up at nighttime and reminded me of the little light-up Christmas model houses and town my grandmother used to put up every year. If I could do my stay over, even though my hotel was great, I think I would stay in one of the mountain cave hotels or with a Bedouin person and get a truly unique experience. You can do things where you cook with them, eat dinner with them, and stay in their cute little cave houses. It's the real authentic experience, and they make money from it, which hugely benefits them as opposed to just spending your money on a bigger hotel brand or hotel. We saw many people opting for this while driving back from Petra by night, and it looked cool, many people with bonfires out just dancing around and enjoying tea under the stars.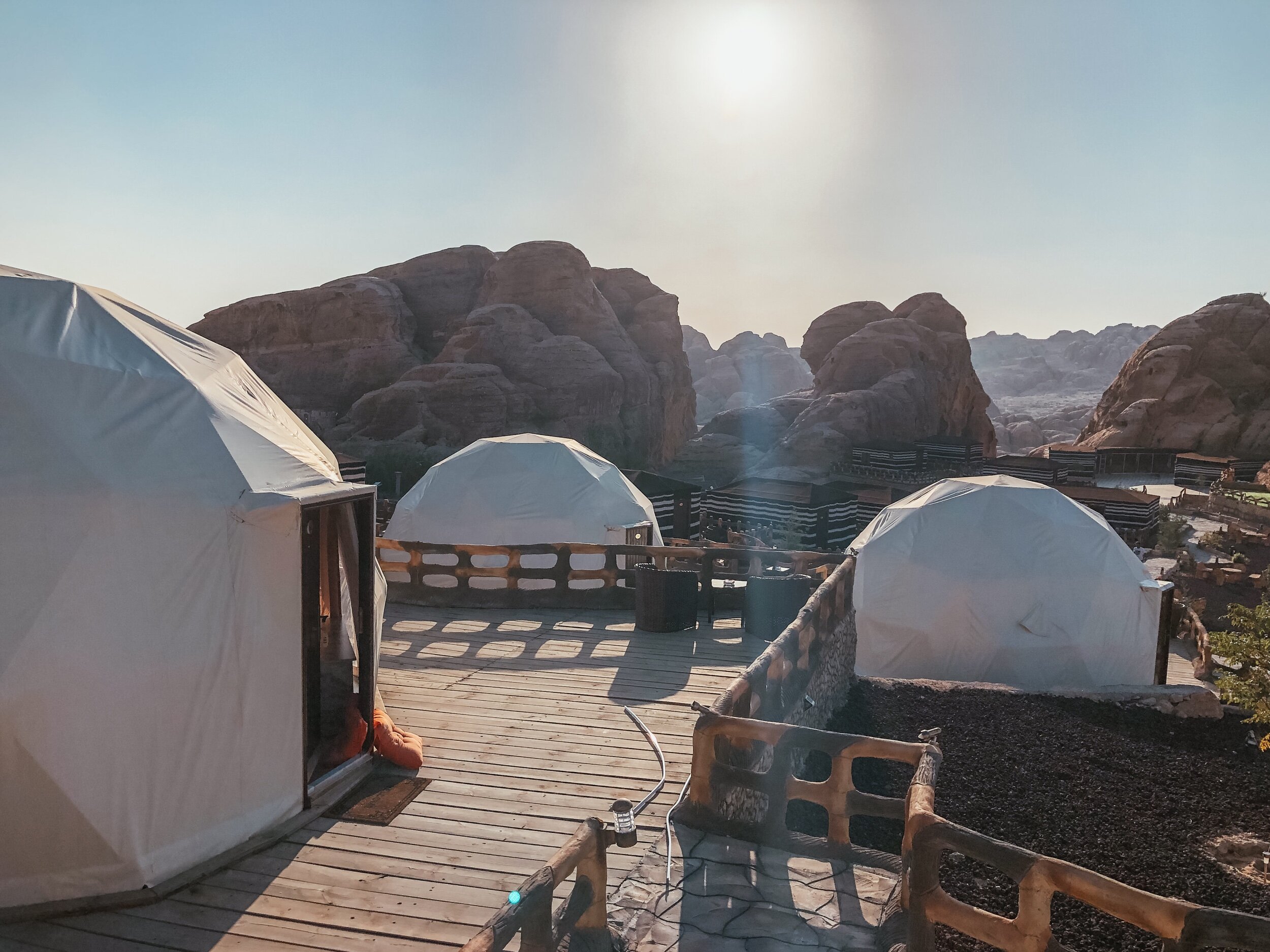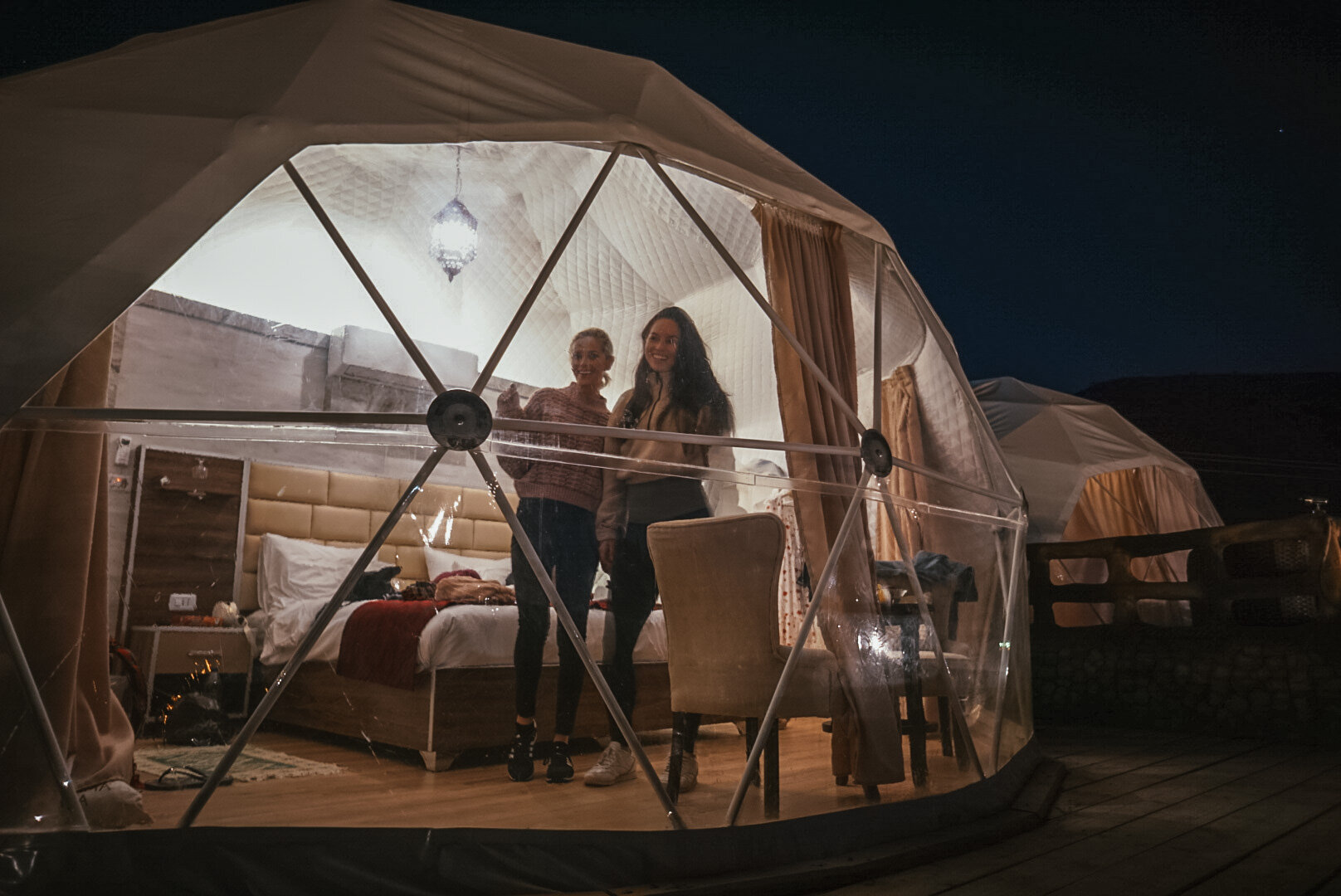 We left our hotel for the town and went to the Petra ticket office to get tickets to Petra by night, we had heard mixed reviews on it. However, I decided, regardless of if it was super touristy or a bit cheesy, I still wanted to do it. Plus, it's your only real opportunity to see the treasury by night, under the stars, and with hundreds of lit candles. So why not opt for a different and unique experience? Don't miss it. It's 25 dollars to enter, you must buy the tickets that day, and it's only on certain days of the week, so watch out. The last day is Thursdays for it. We went on a Thursday night. I recommend being the first ones there and walking super fast through the siq to get to the treasury. You will get epic photos if you get there with the first few people as it fills up quickly, and the scene just isn't as mystic once it's filled with 500 tourists. So walk briskly and take a little water with you as the walk is about 1.5k inside and takes about 30 minutes or so. The show lasts about 40 mins or so, and then it's time to walk back. Bring a good camera as the iPhone just could not capture the dark treasury well. Try the tea they pass out, it's so lovely. I just sat there looking at the treasury and the stars in the sky, and felt so much gratitude. I tried to imagine myself back thousands of years ago when it was still a bustling stop on the Silk road. It really is such a magical place.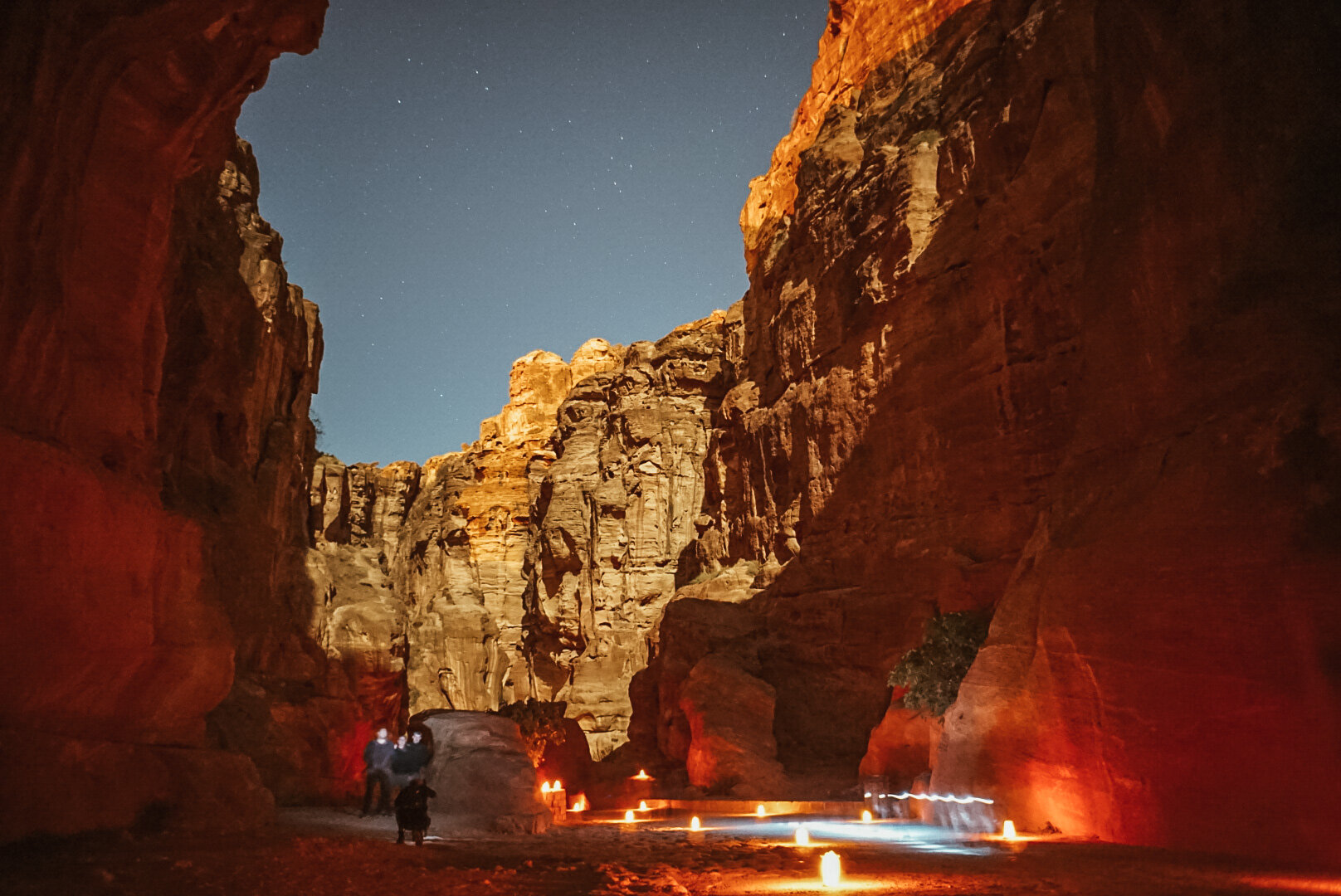 Petra by day. Many people will tell you that you need two full days at Petra. I think one full day is enough. However, if you want to see little Petra, then I would allow a second day for that. I would spend two nights in Petra, though.
Be at Petra before it opens; My number one tip when going to Petra arrive there 20 minutes before it opens. The opening time is 6am. Go at 5:45 as we did. Petra is one of the top tourist attractions in the world, thousands go daily. If you want to enjoy your experience, get the most of your day, the best photos, and lesser people, go early. Also, another important thing. When you arrive at Petra for the day, even if you have a Jordan pass, you still must go to the ticket office line to get it stamped. The lines get long, so don't make the mistake of going straight to the gate of Petra because they will send you right back to the ticket office to show your passport and get your stamp. Remember, when using the Jordan pass, you must have your passport with you. We got there at 5:45 were the first few people in line to get our pass stamped, and then once we entered the gate, we walked as fast as possible to get to the treasury and get epic photos before anyone got there. I'm telling you, it's worth it. The tour buses all arrive around 10am, and by then, it's packed at the treasury, so forget getting an epic photo without loads of people in it.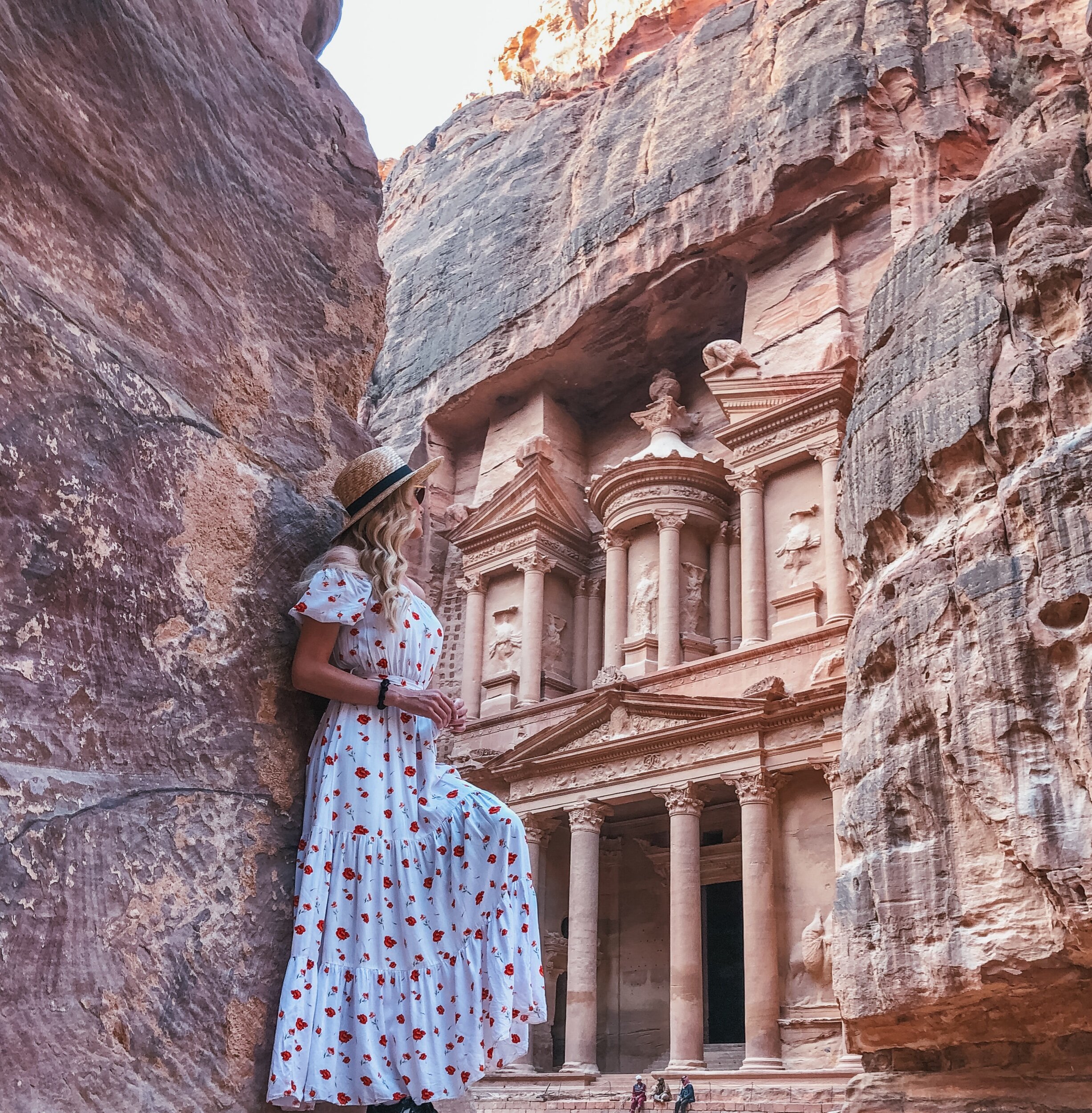 There are some great photo spots just to your right of the entrance, from the Siq to the treasury. You climb some rocks, and there is a man with carpets to sit on and drink tea. Give him 1 dinar for the tea and the photo opp. You have to pay for him, but you can take really great photos. Everyone takes turns there, and it was my favorite photo spot. If you look all around the treasury, there are great spots. The horse stables, the cliffs, everywhere is a different perspective. Remember to bring cash to tip the people who show you the photo spots or let you use their balconies. The restrooms also sometimes require a dinar so best to have some singles with you.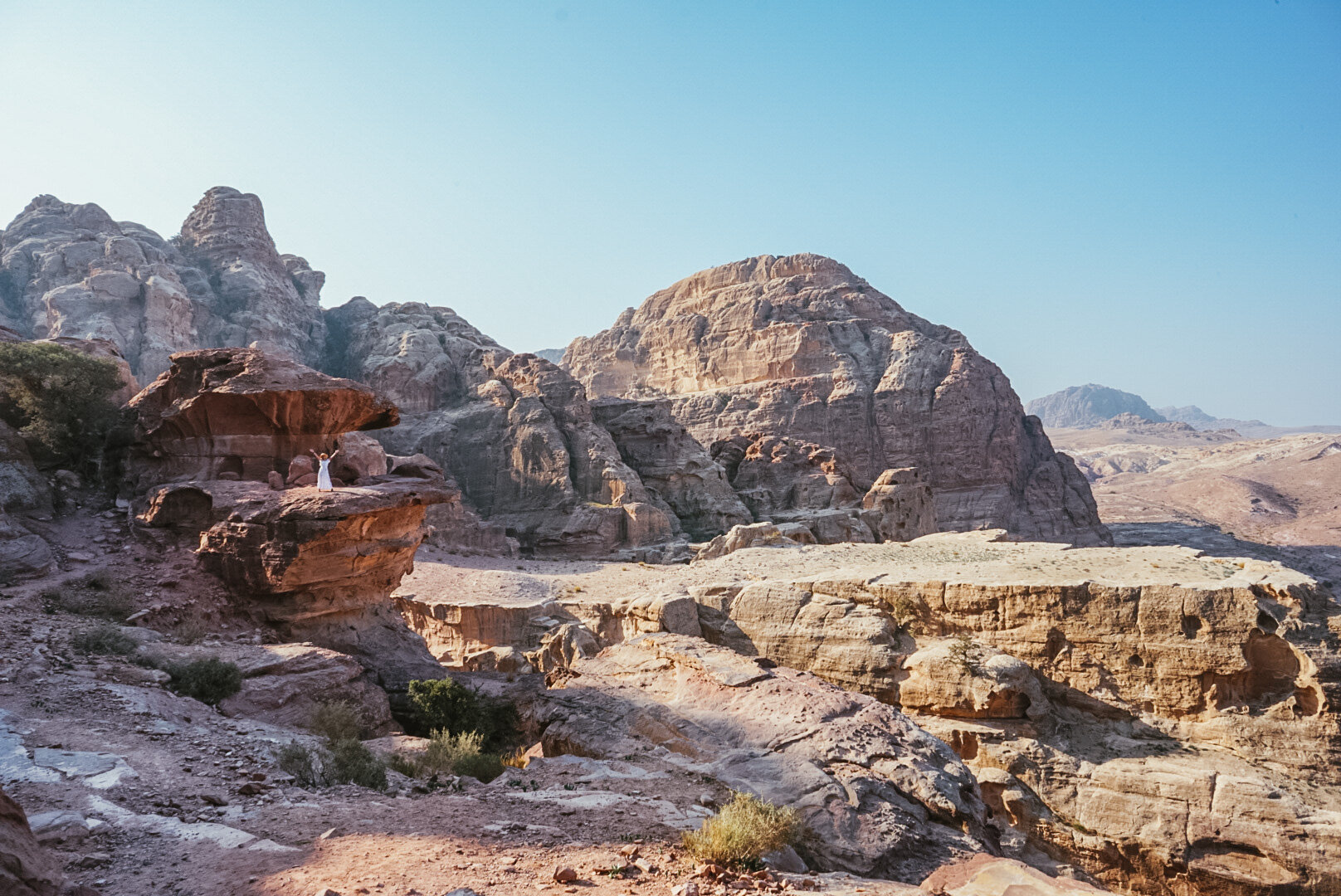 TRAIL ADVICE: READ! Now here is some vital information on which trails to walk, during which part of the day. To avoid being in the constant sun and the crowds. Start at the treasury, (obviously) and then head up the Streets of facades. Turn left at the High Place of Sacrifice and start your hike up. You'll pass the Lion's Monument, The Garden Temple, and many more scenic lookout points. There is more to see this way as opposed to going right to all the tombs first. You will walk around until you get The Great Temple, The Columbarium, and The Temple of Dushares.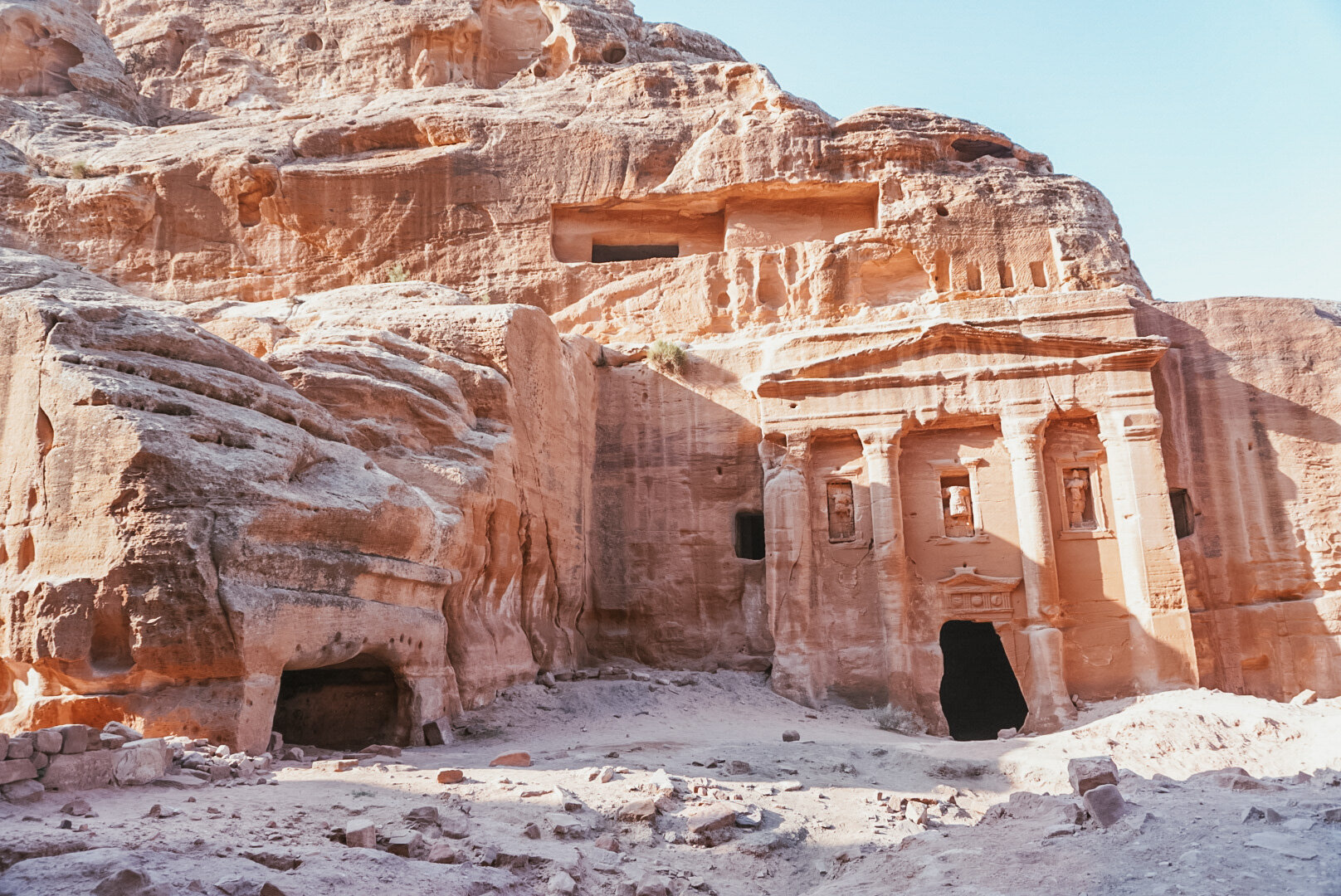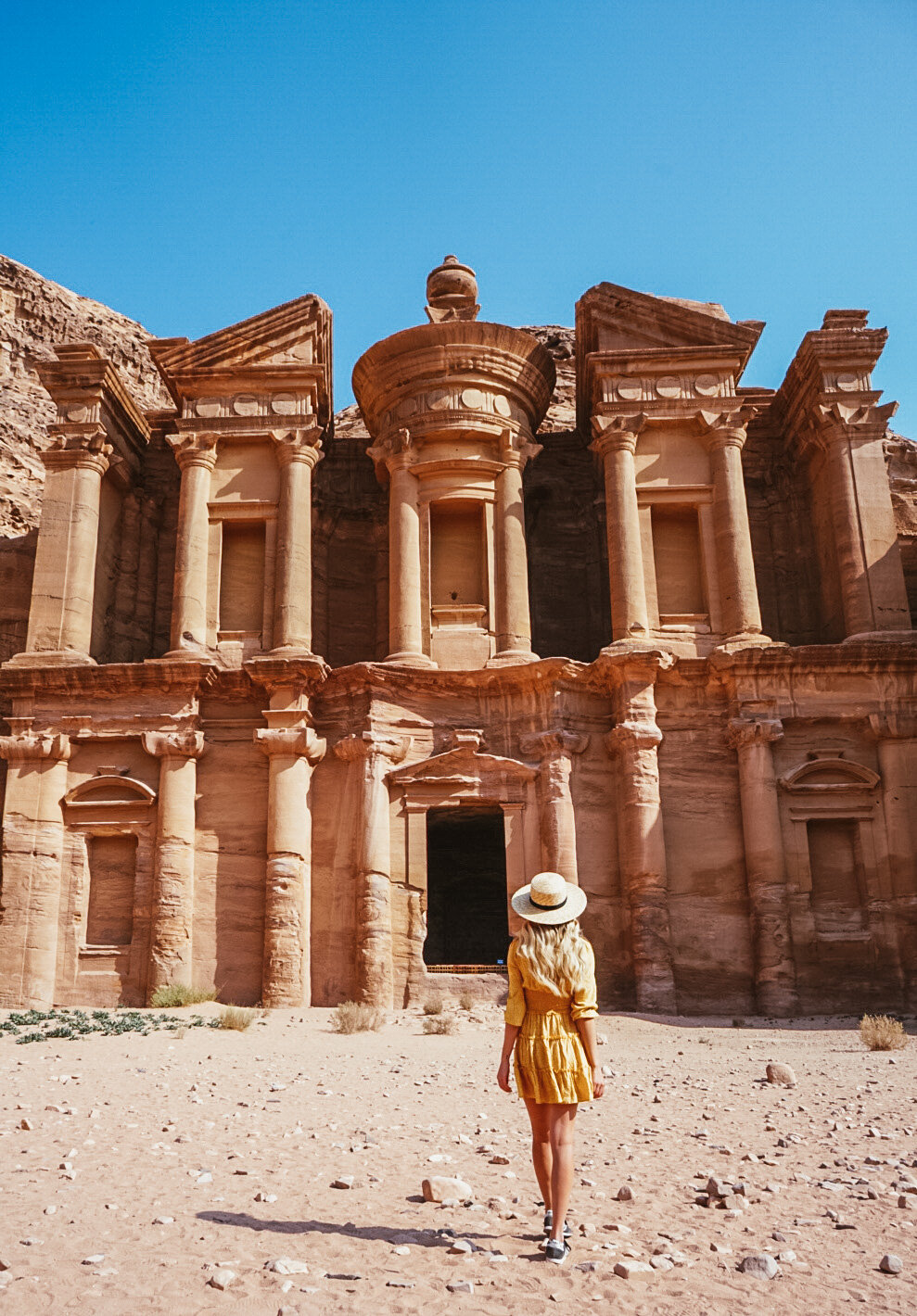 After these last few sites, you will begin your thousand stairs climb to the Monastery. You can not miss the Petra Monastery. It is a long walk but anyone can do it. I saw 70 year olds doing it. It will take you about 2 hours to walk from the treasury to the Temple of Dushares, and then another hour to hike up to The Monastery. Again, if you get to the Monastery by 11am you're in great shape. You will be walking in the shade, also doing this route as opposed to walking straight up the Streets of Facades to the Monastery. Please don't take animals up to the Monastery. I just can't support animal tourism. The camels, donkeys, and horses in my opinion, probably don't want to be carrying your ass up 1,000 stairs, so unless you have a disability or can't walk, do it yourself. Don't hire animals. It's just not right.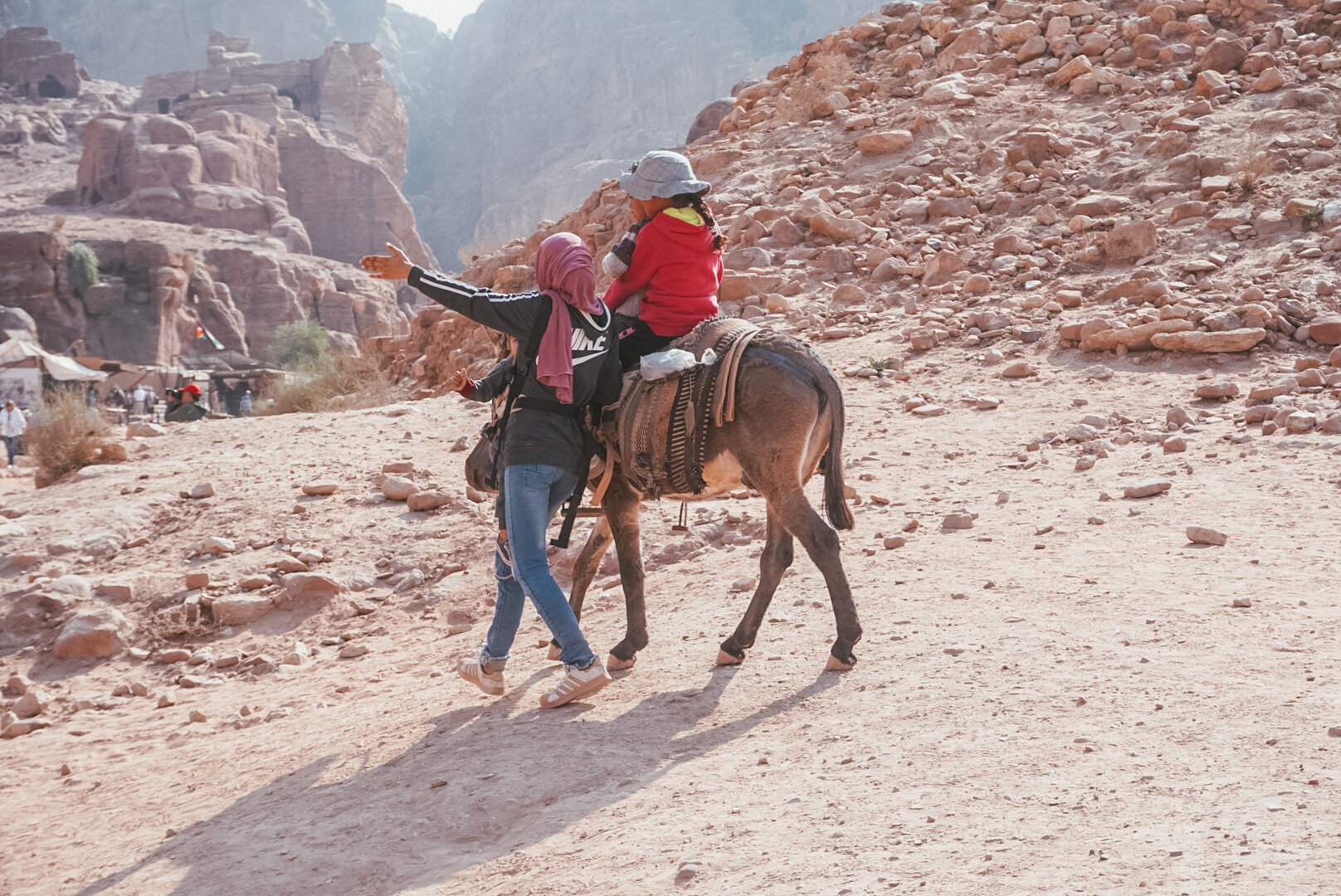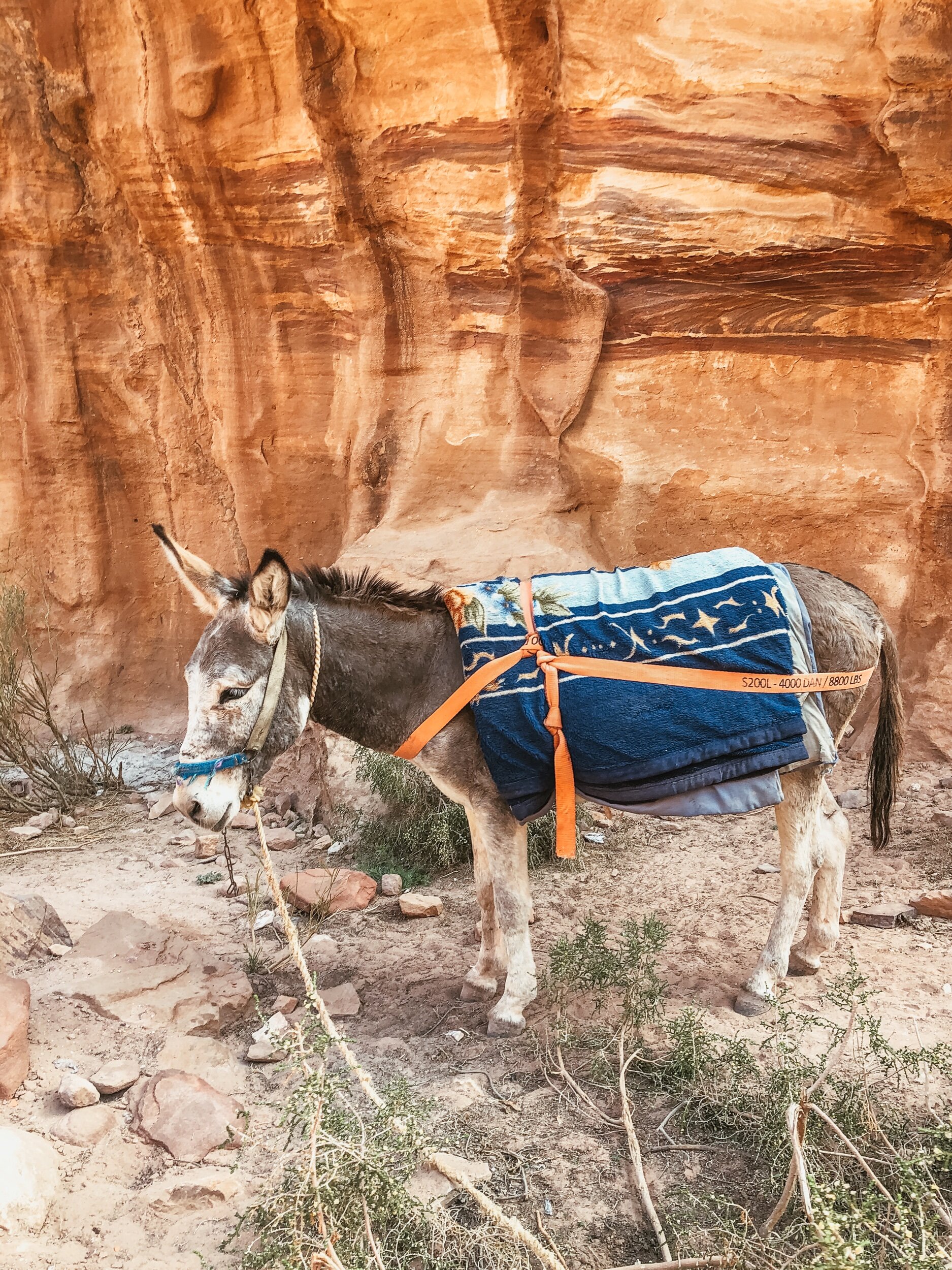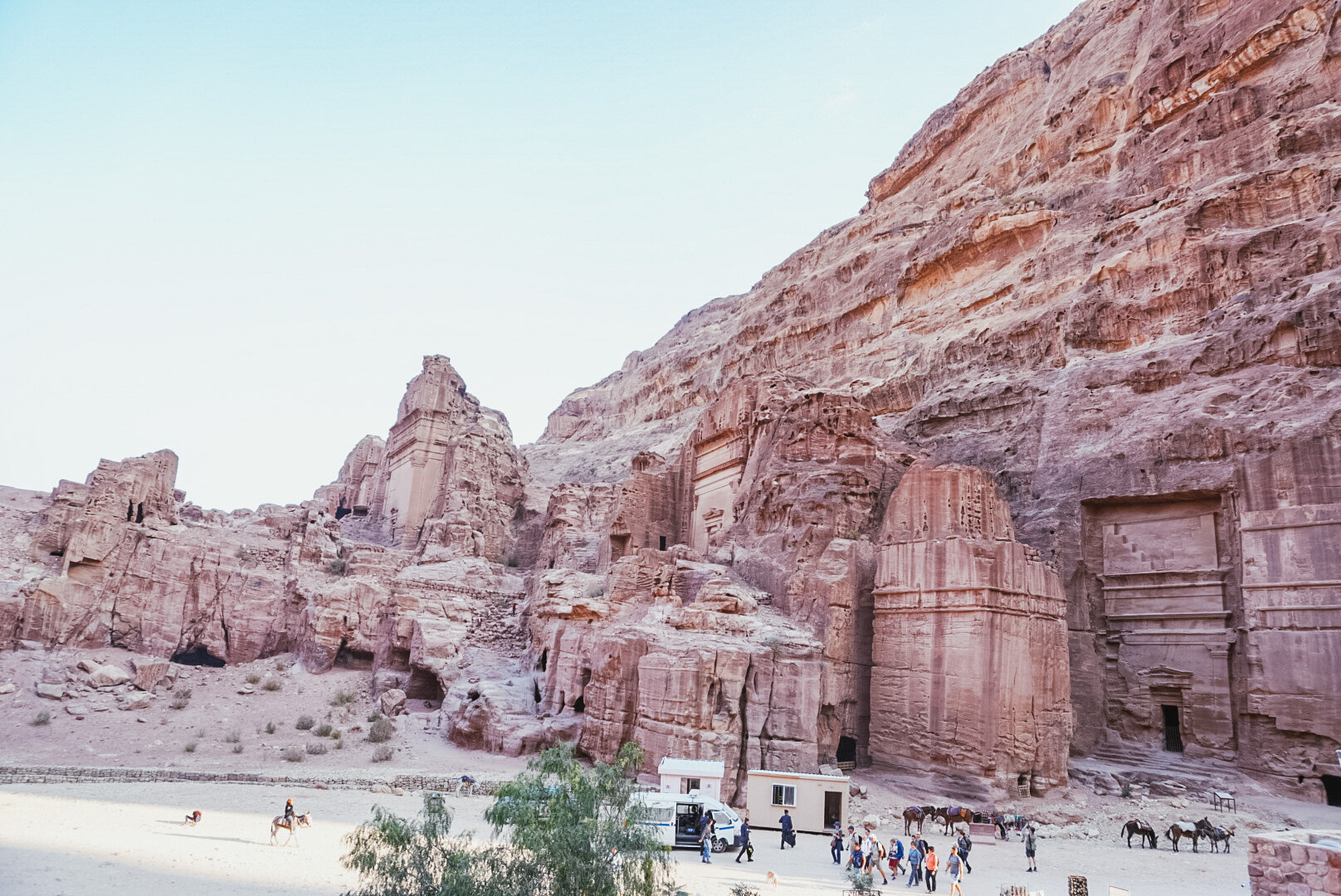 Upon arriving at the Monastery, there are no bathrooms except "in Nature", so go before. There is however, a restaurant you can get drinks, sheesha, and sandwiches. You can also get some epic photos at the lookouts here. There is a little cave right behind the restaurant that many girls have gotten pictures from. It smelled of goat piss, but it made for a beautiful photo. Get low as the photo taker, to hide the benches in the background.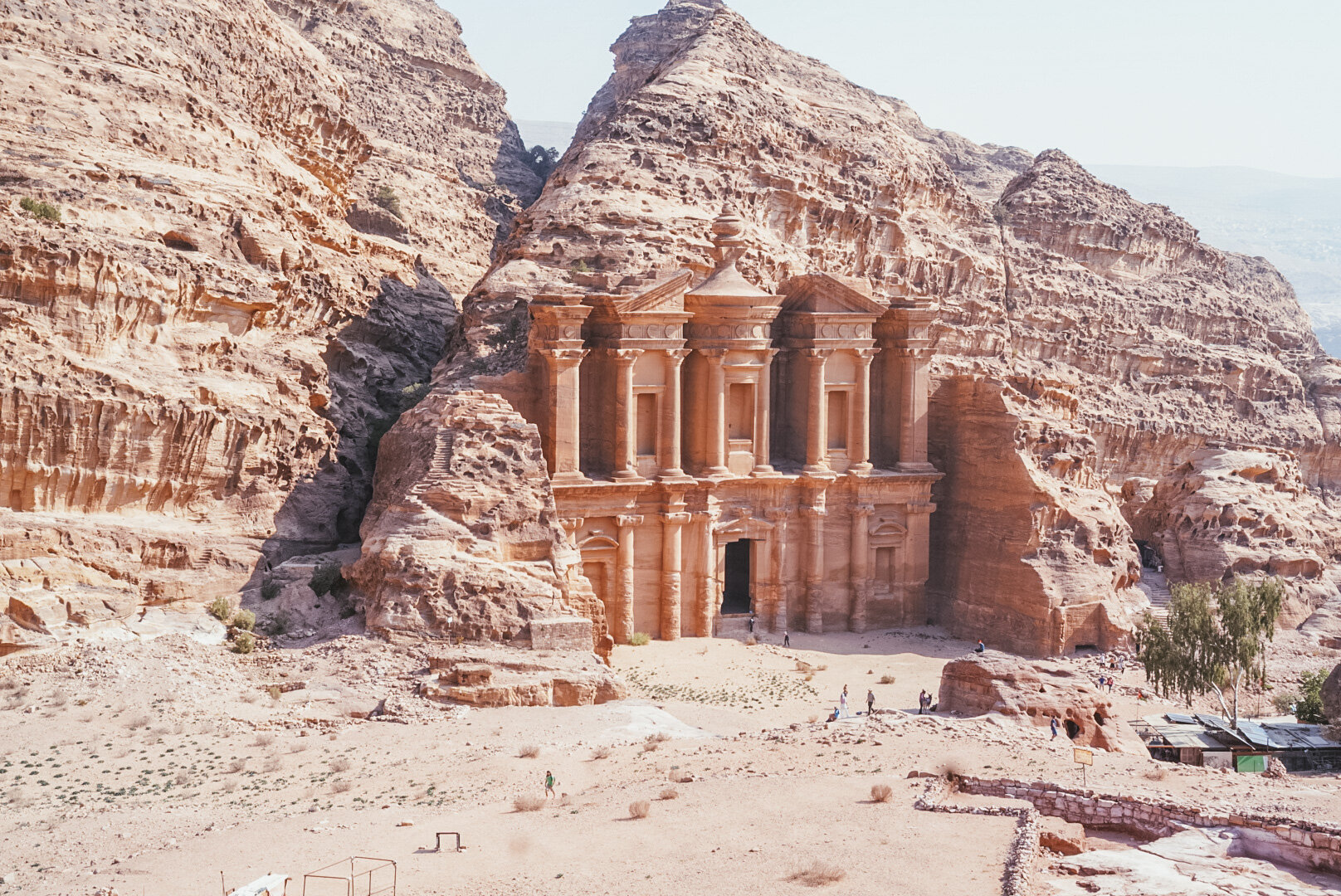 There is also a lookout point even further back you can climb up to. The Monastery is so beautiful. There are little shops all the way along the trail to the Monastery. Have cash if you plan on buying but perhaps look on your way down so you aren't carrying it. Haggle of course. Also, if you get too hot I would stop and have some tea with the locals at little cafes on the way. It really gets so hot walking up those stairs. Make sure you have excellent walking shoes. I wore my Adidas tennis shoes under my dress. Haha. Make sure to pack a hat, sunglasses, SPF 50, good shoes, water and snacks.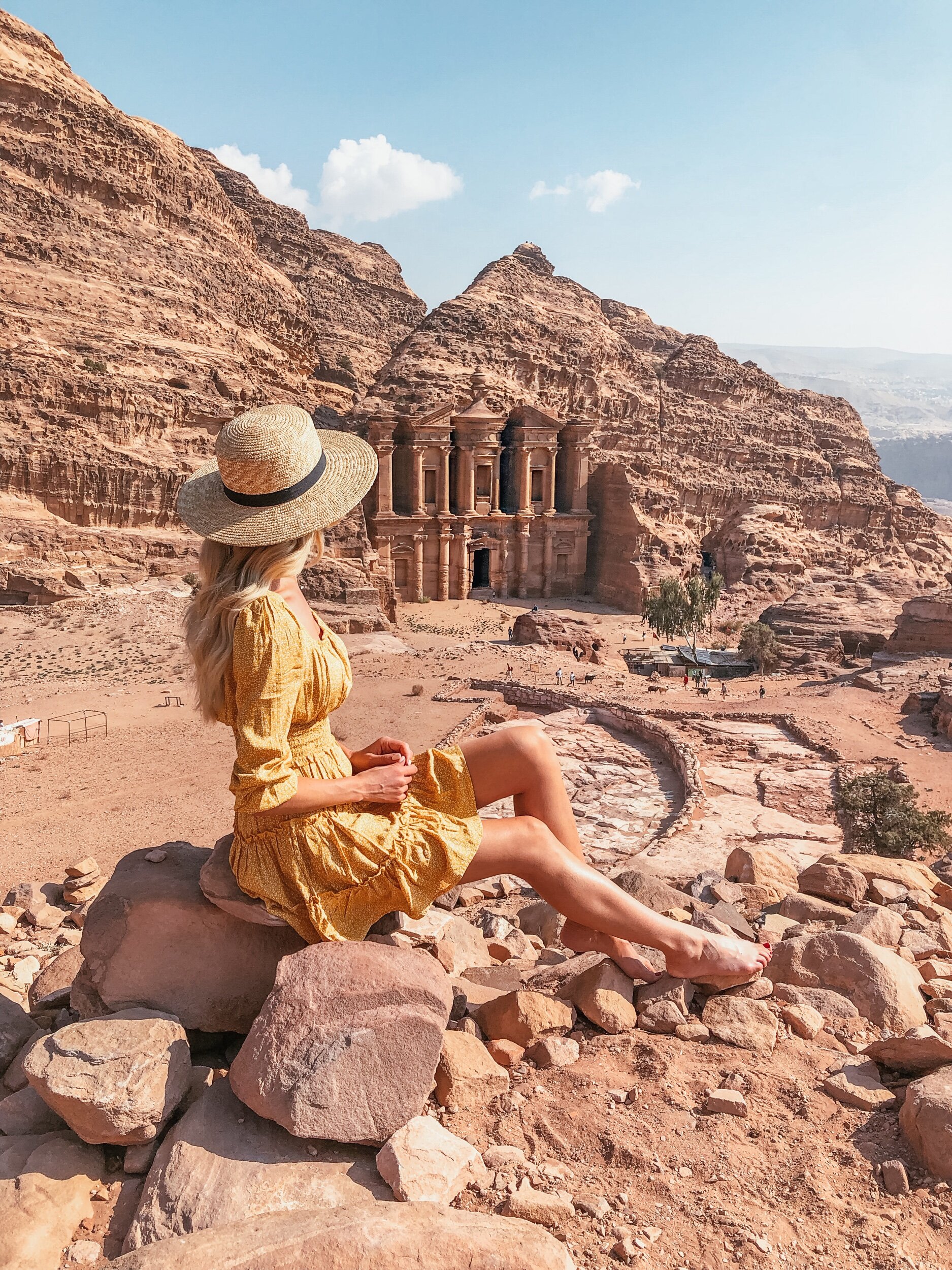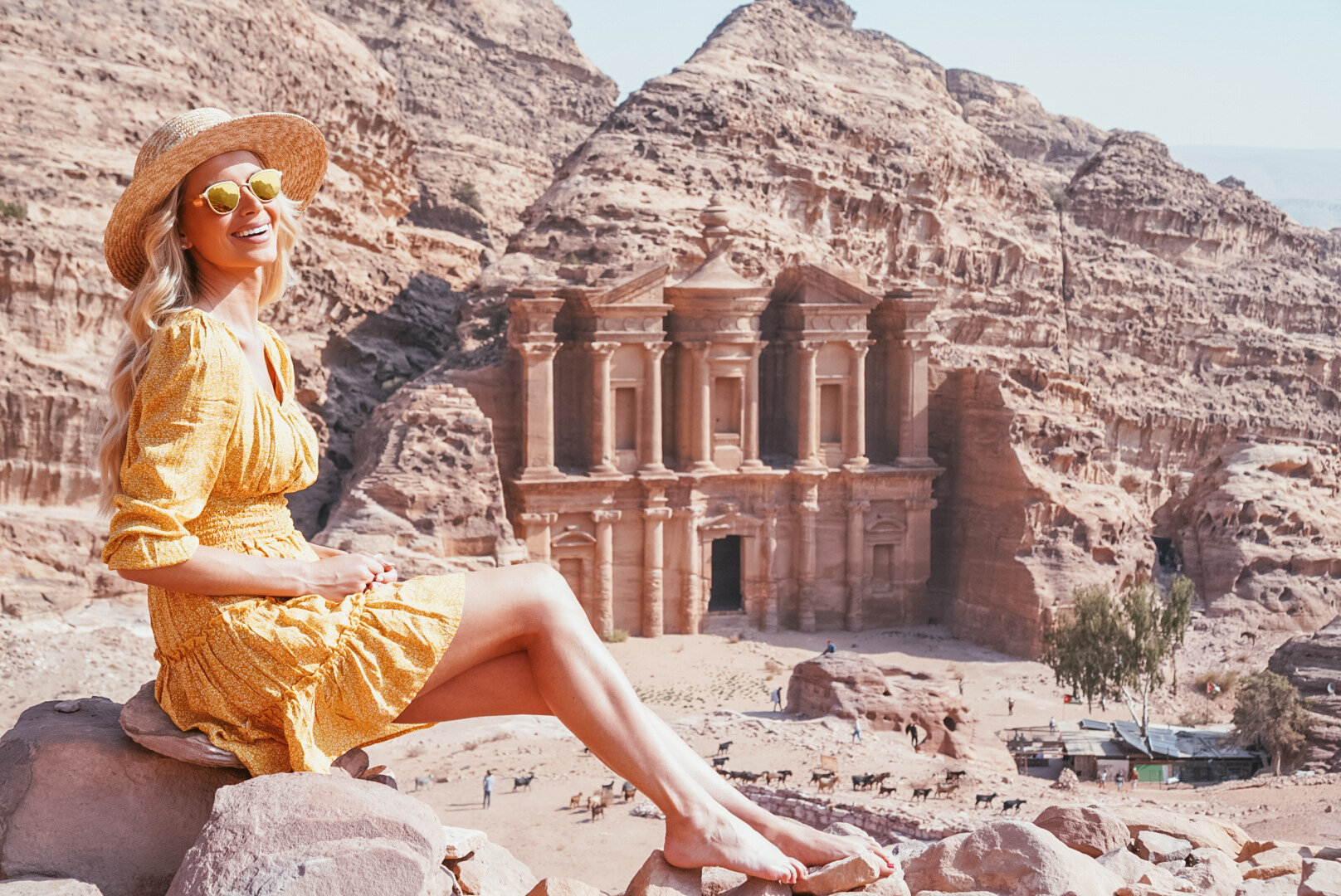 Bring extra snacks if you can because the kids there will ask you for some of your food if they see you eating it because they don't have much and are hungry. Some people go against giving food out as they say they start to rely on it too much but I couldn't have someone beg me for a cookie or potato chip and say no. Money is one thing, but when someone is asking for food, you know they probably are hungry. A lot of the locals also only eat certain foods so they don't get snacks too often. They'r' used to pita bread, rice, camels milk, and certain meats. They enjoy the treats if you're feeling generous. If you aren't, then be firm with your no, or they will keep trying. Also remember that nothing in life is free, if someone offers something "free" don't take it, it's not free, they will want something for it and will ask after they have given it or they will ask for a tip. After you finish at the Monastery, the hike down seems a lot faster. Perhaps because it's downhill. You will then come down the hill, walk back down the main road and you will get to the tombs which are incredible. There is so much amazingness on both sides of you.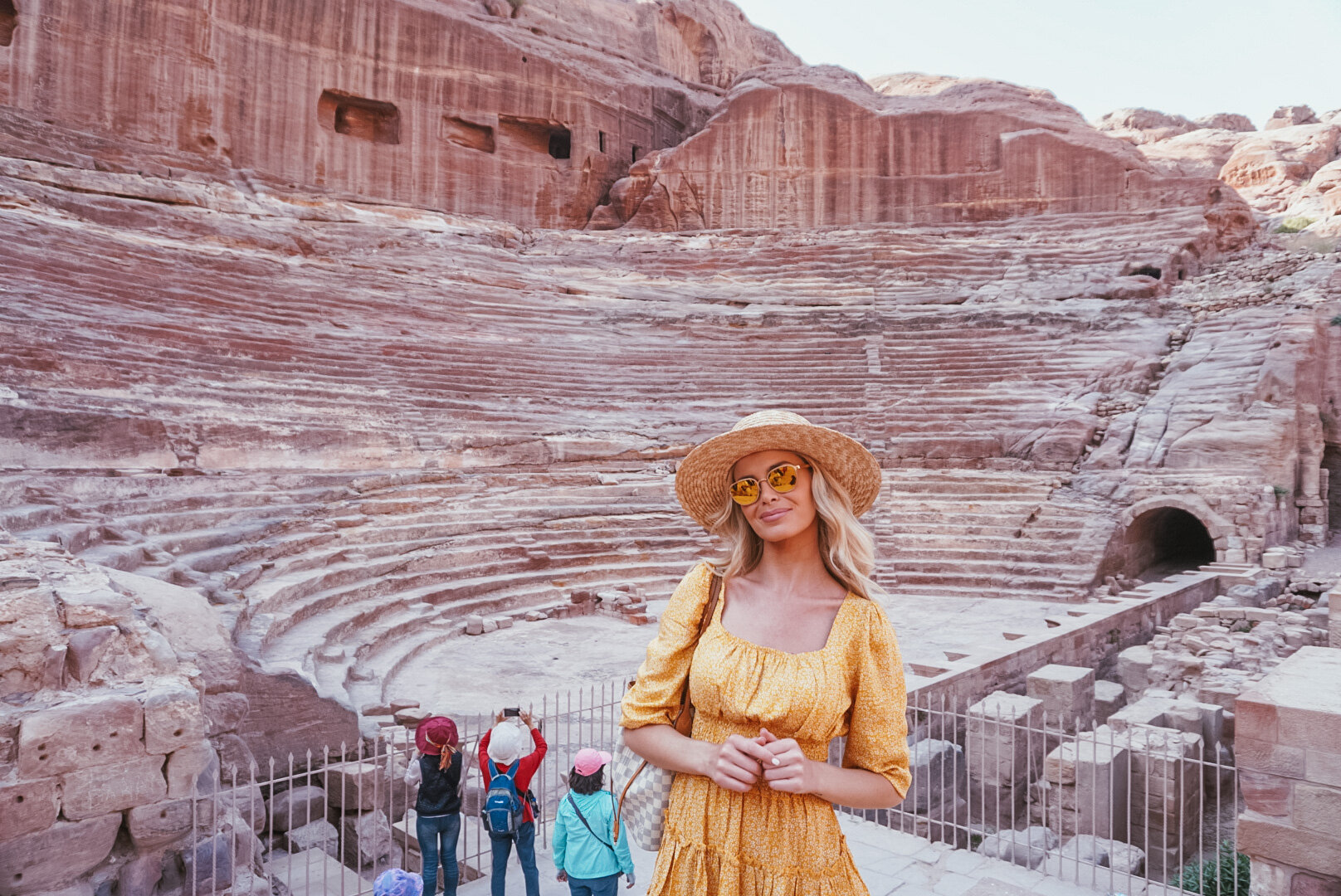 Take your time walking back down. Remember that it's not just about the photos, it's about experiencing the moment and taking it all in. Once you get to the theatre, you're going to be back at the treasury very soon. Ash and I arrived at Petra at 5:45, and we left around 3pm. That was enough time for us. If you really want to see all of the trails you will need longer and maybe a second day. We were just happy to see the main sites in Petra as again, it starts to all get redundant once you've seen most of it. We sadly missed Little Petra, but it's free to enter, so if you have time, I would for sure go there. I recommend going there first because if you go to little Petra after Petra, you will be underwhelmed. There are great restaurants right down the road from the Petra ticket office. We ate at one really authentic place called "My Mom's Recipe". It was so good.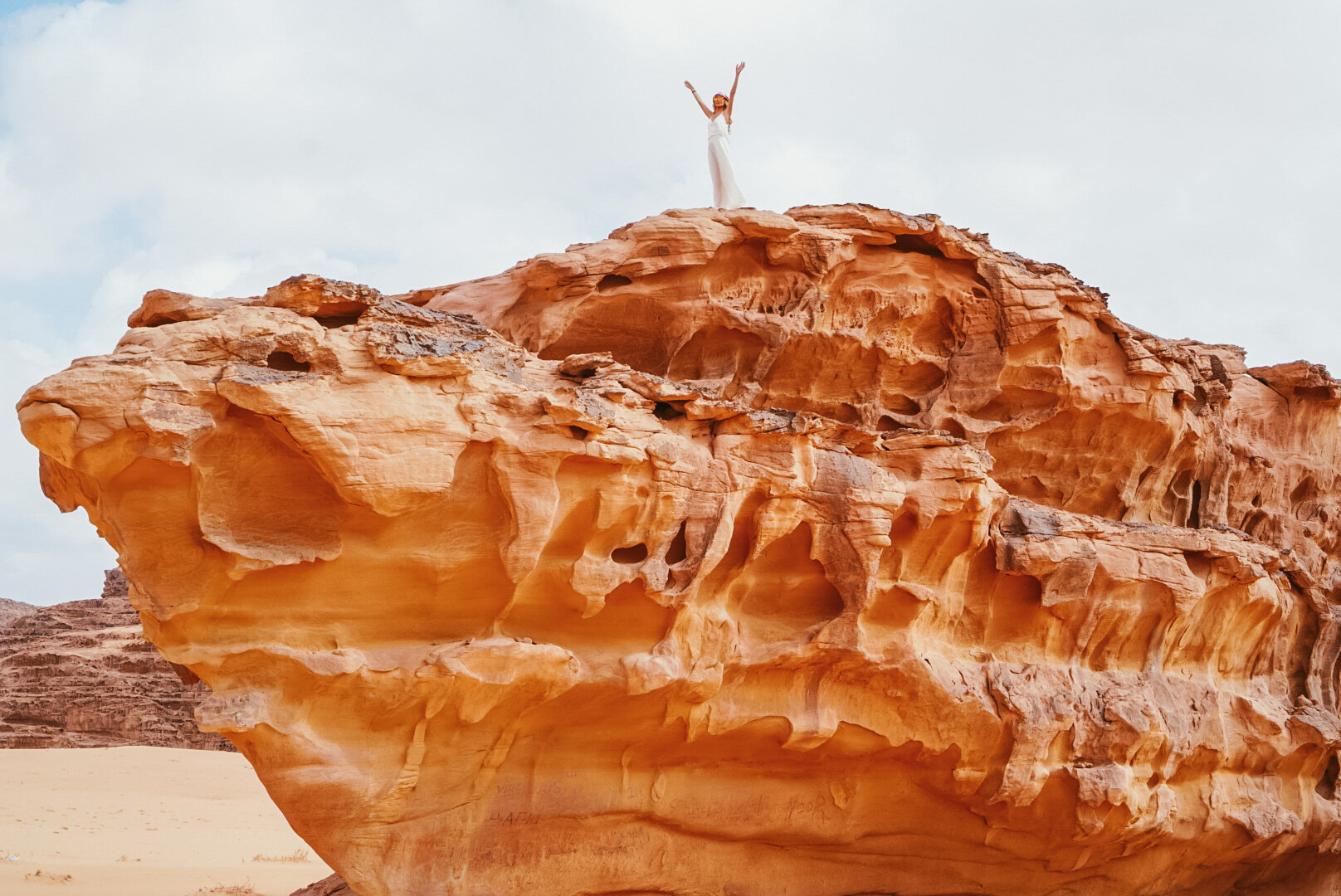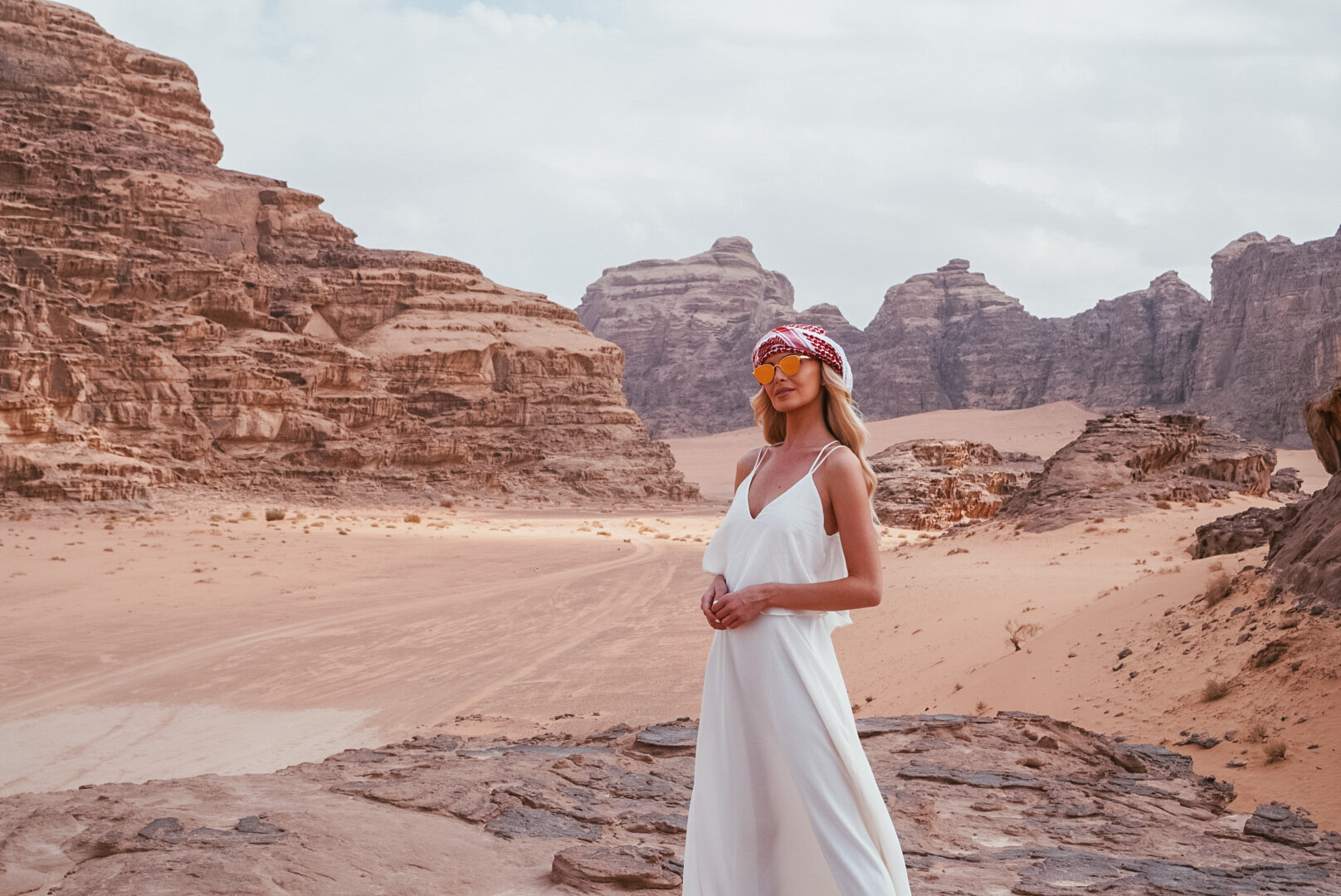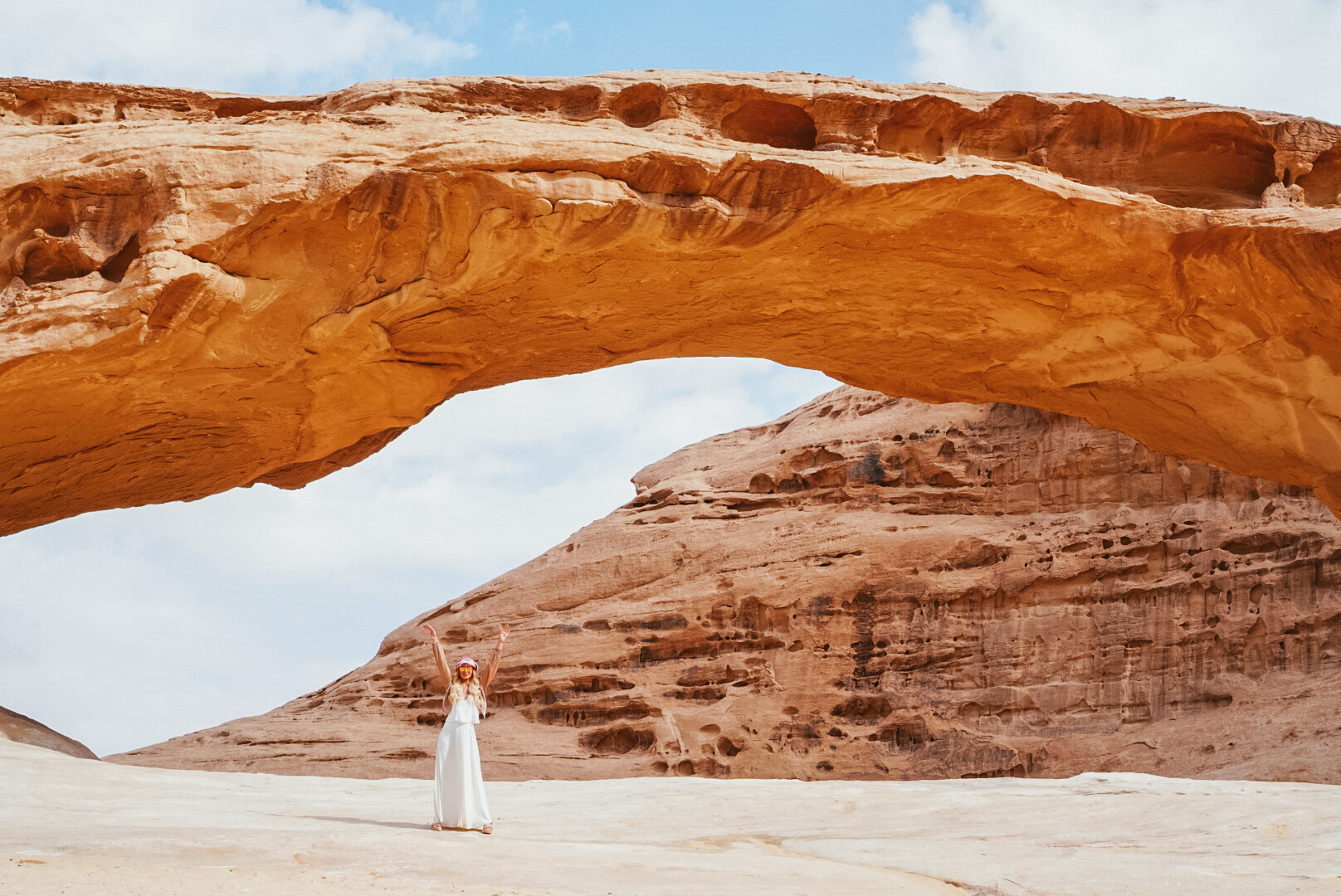 Petra to Wadi Rum; The drive from Petra to Wadi Rum is much easier than the journey from the Dead Sea to Petra. It will take you about two hours. Wadi Rum, aka The Valley of the Moon, is a desert Valley made up of red sand, incredible sunsets, and the coolest rock formations. It is like no other. If you ever wondered what it would be like to be on the Moon, then this is going to be the best presentation of just that. Hell, the film The Martian was even shot here. It's the crown jewel of the deserts nearby and offers some of the most unique landscapes you'll ever see on this planet anyway. You can not miss this breathtaking place. Wadi Rum is excellent because it's less touristy than Petra and yet still so stunning. Have you seen Lawrence of Arabia? Well, that movie was also filmed here. It's truly like a movie set in some spots. There are a million photo ops. We went for the jeep ride on the outskirts of the protected area as there are a lot of cool things out there, great photo ops, and reception! Haha. You only really need a full day to do the jeep tour here and then one or two nights to camp and relax under the beautiful stars. If you can, watch the stars. I've heard that many people have claimed to see UFOs here. Ash even claims she did while I was showering.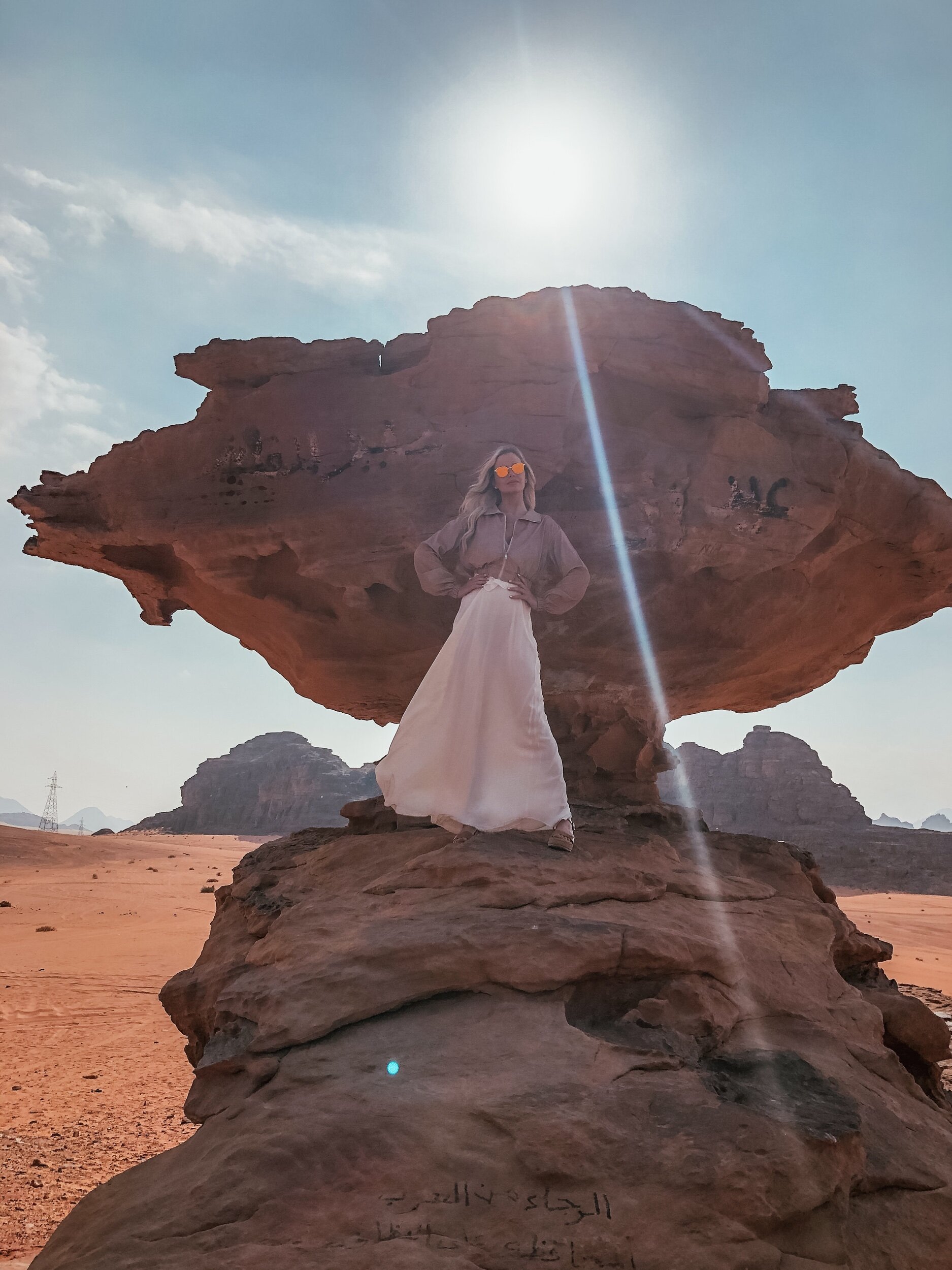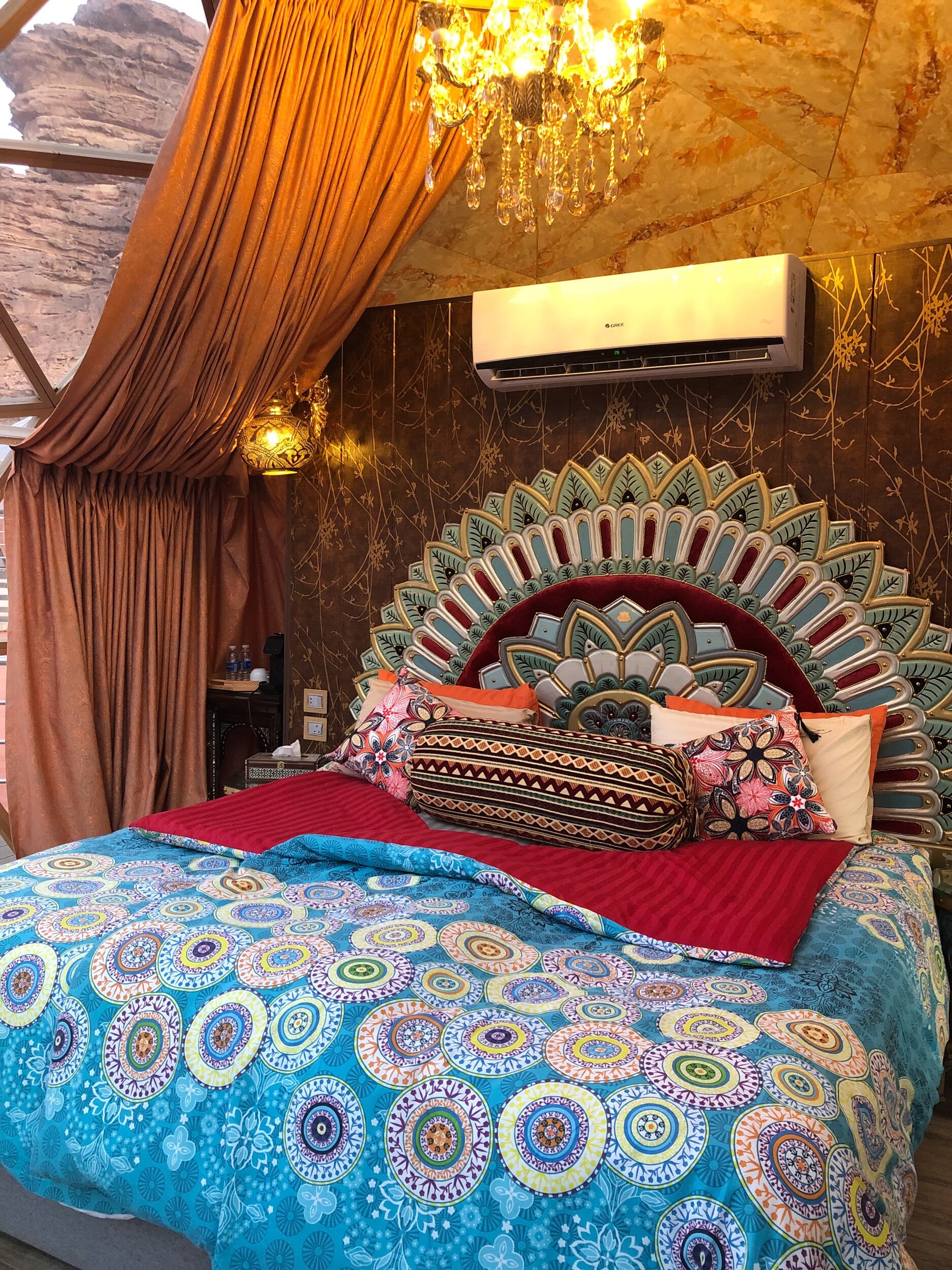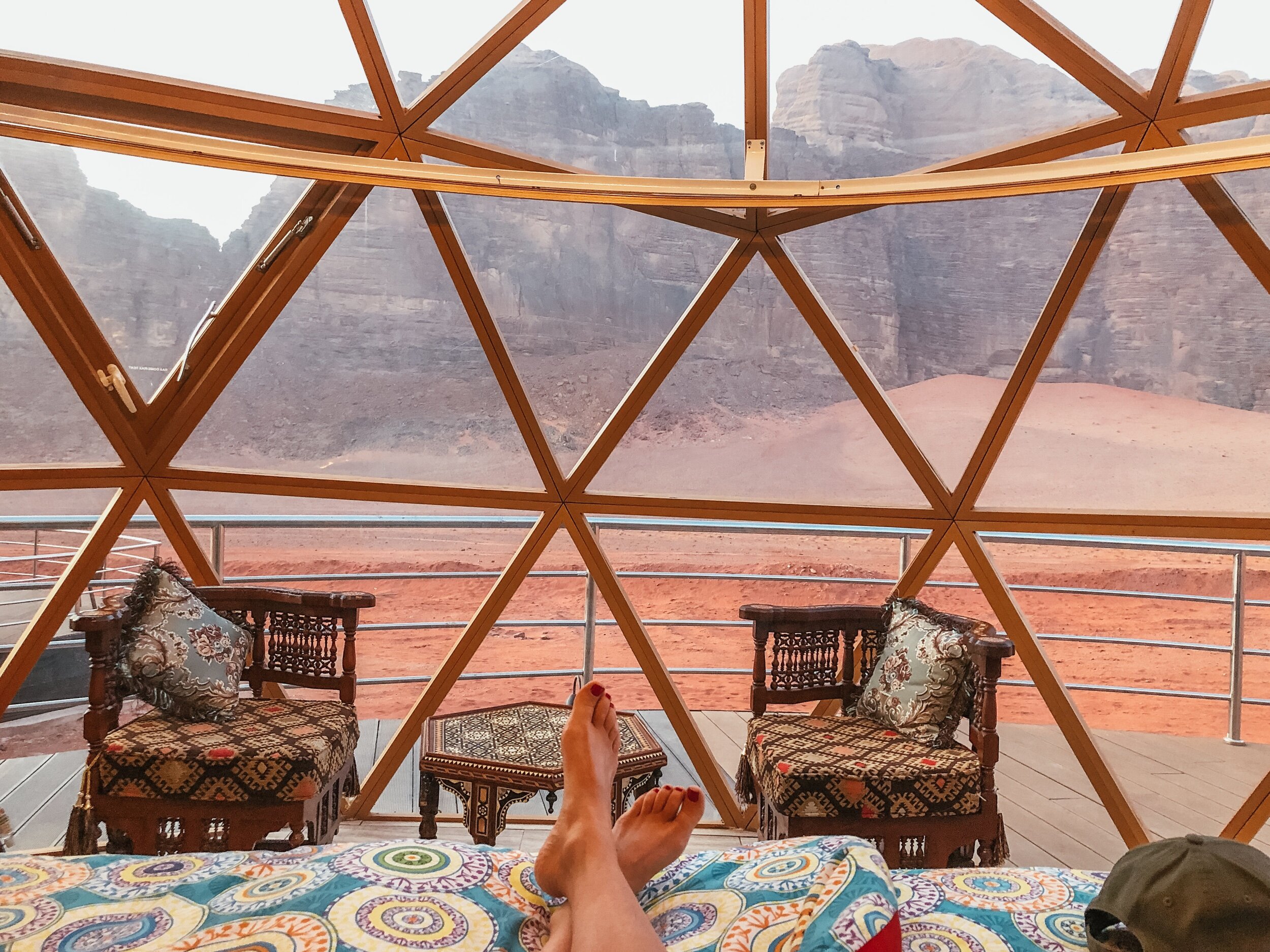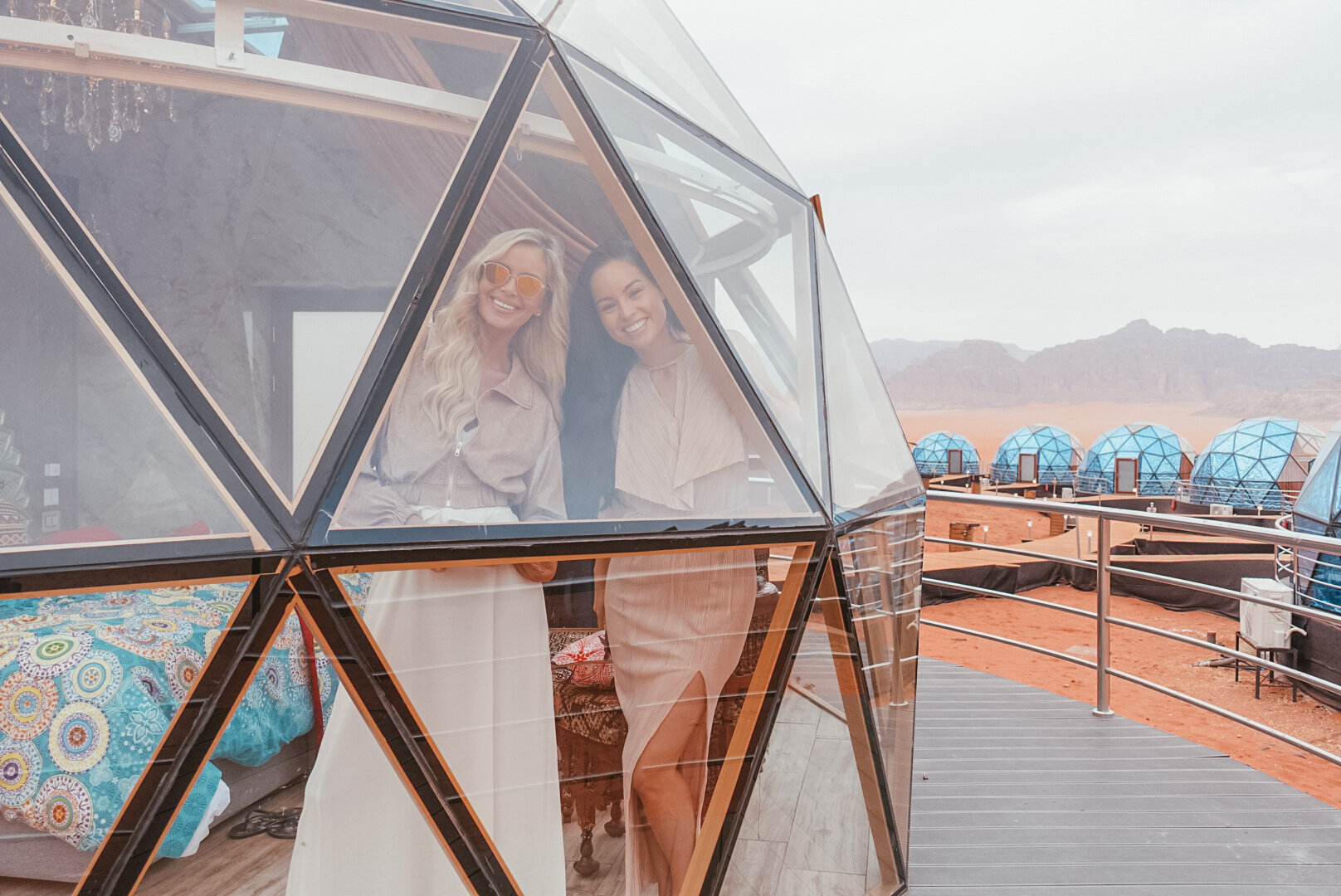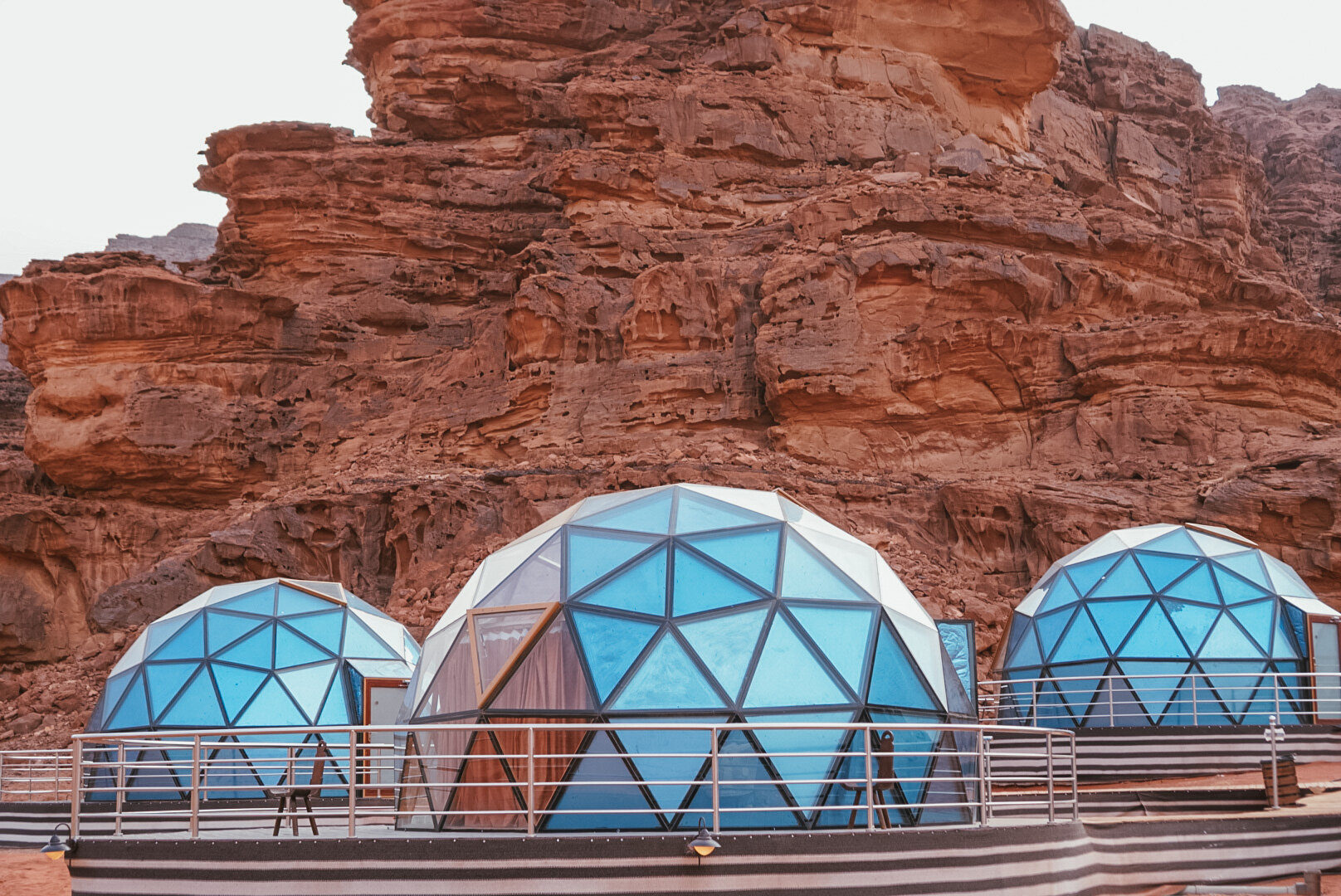 Wadi Rum Accommodation; To have the most out of this world experience, like none before, I recommend staying at Memories Aicha Luxury Camp. It is in the protected area of the Wadi Rum desert park. You park at the parking lot in Wadi Rum town, and then a driver from the hotel will bring a 4×4 to pick you up and take you to the hotel. There will sadly be no wifi or service, but honestly, it's the most far-out hotel I've ever stayed in. Make sure you rent a dome room. These are a little more costly, but again, you can lay in bed and have panoramic views of the desert all around you, and then the roof you can look up at the stars all night from the bed. It was so neat, and something I would love to take my kids to do one day. It's worth the money. The room again is just a small colorful dome with charming interiors. I loved it so much! There are a few dome hotels, but this one was the best, in my opinion, because of the size and color of the room. The bubble hotel there is a little plain from what I've seen. The room rate also includes meals, which was nice. The food was great here. The only complaint was the drinks were a little pricey, but I would still go back without question. If you want a once in a lifetime experience, then this is the place and hotel for you. It's like no other place in the world. It's really like camping on Mars.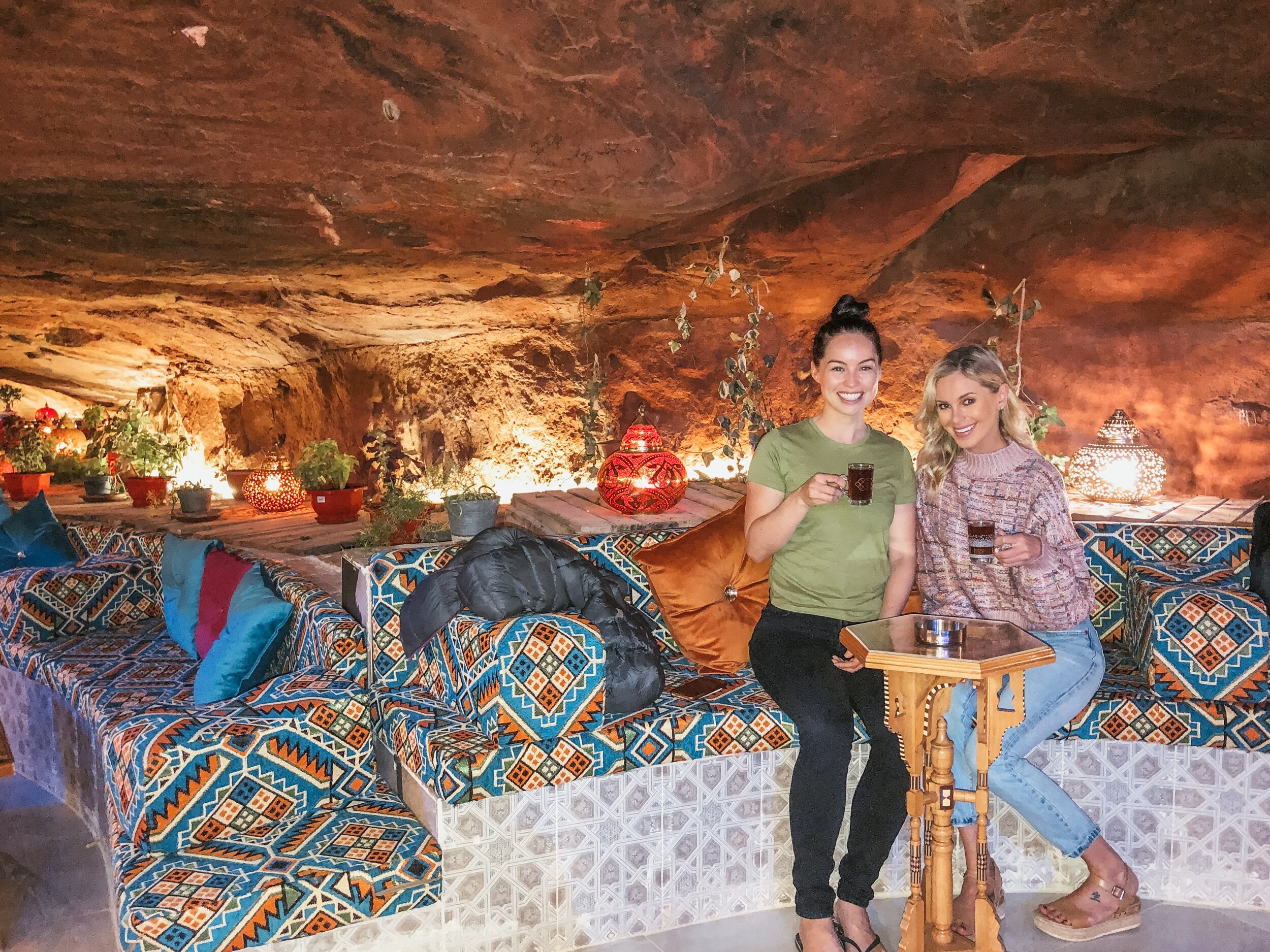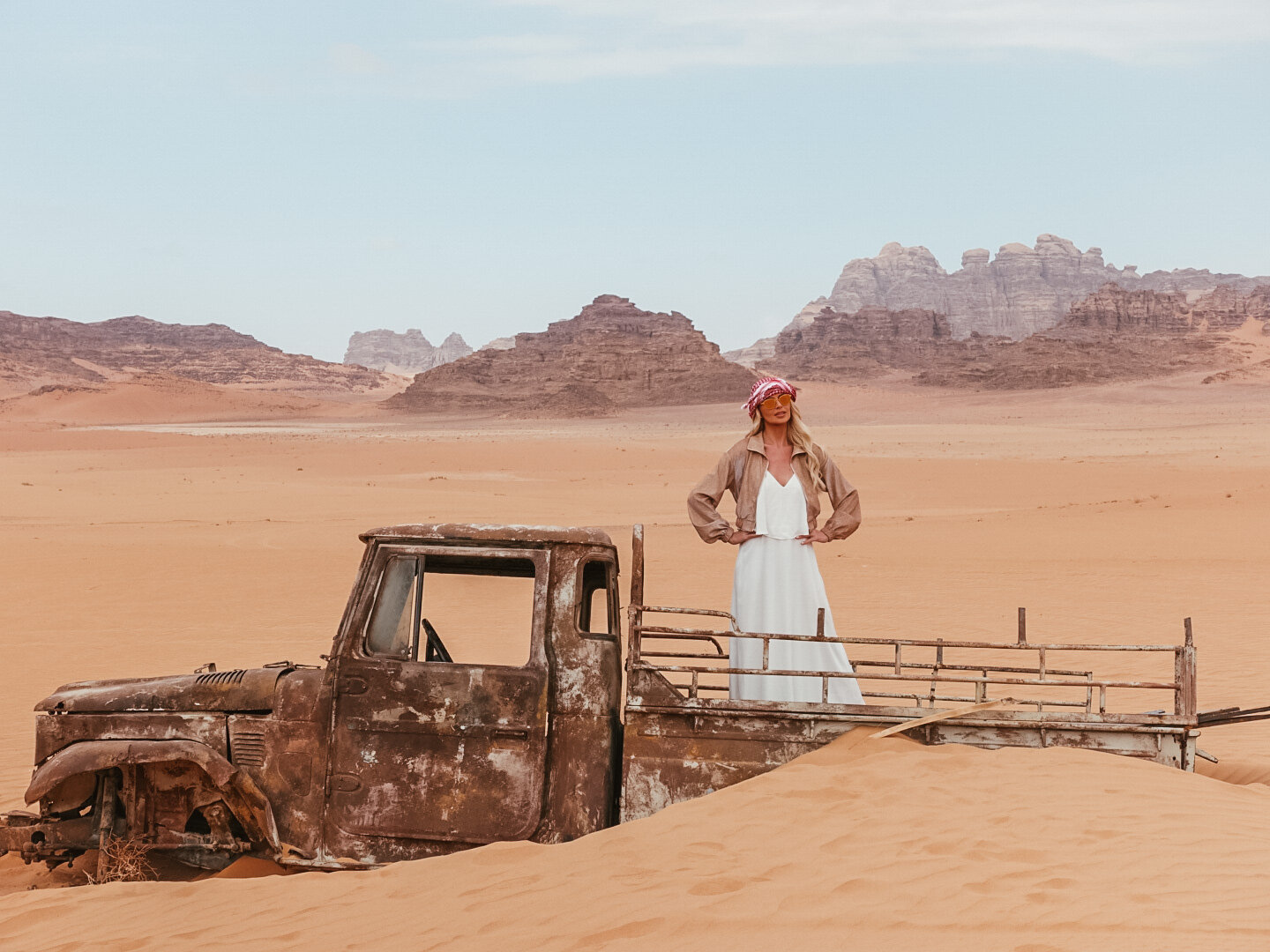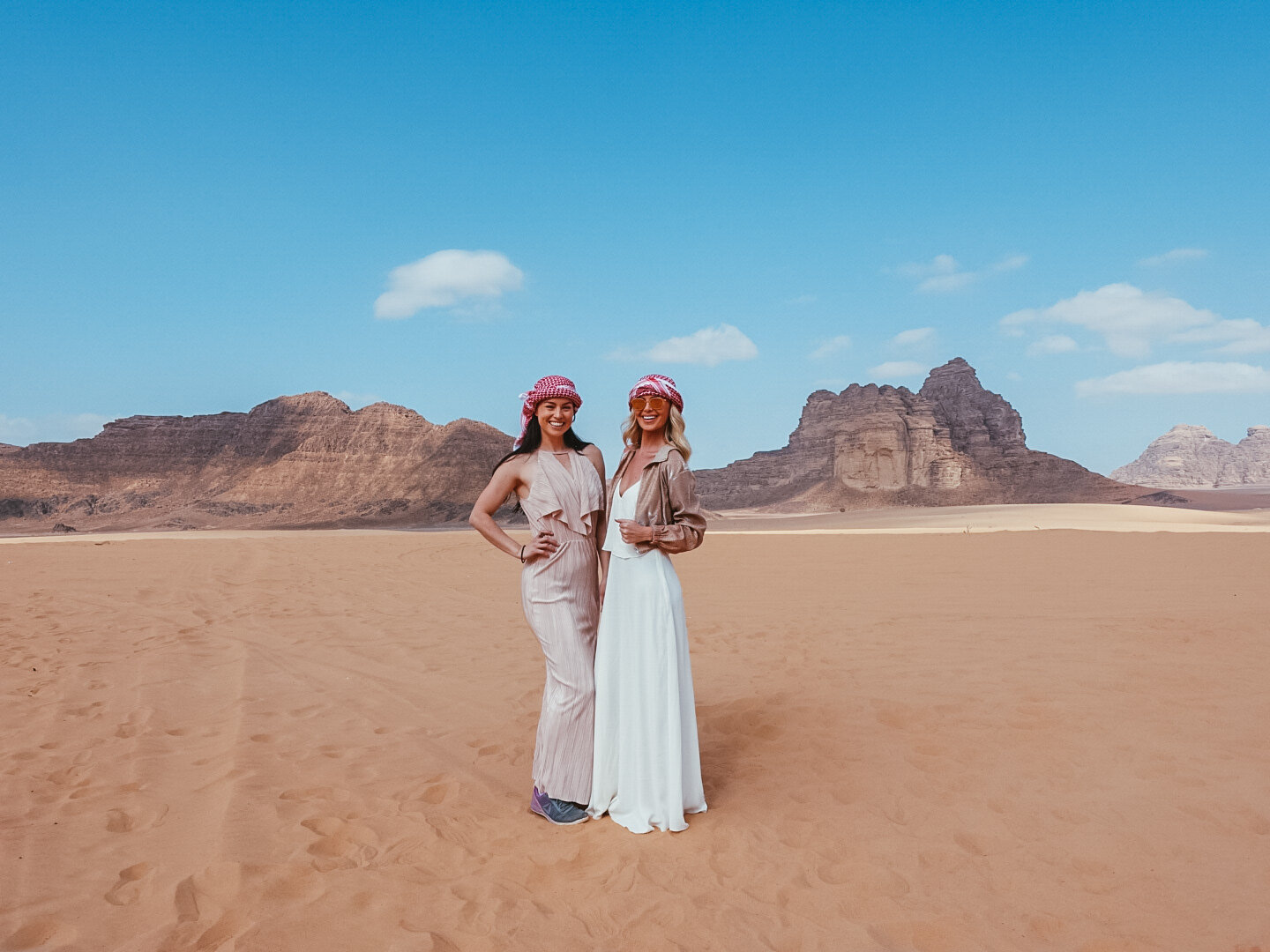 When Ash and I did our 4×4 tour, we had the best time with the best guide. We had to meet him at the gas station just outside of wadi rum town, and we left our rental. It was perfectly safe there. Our guide was Mohammed, and he was terrific. I will link his facebook below. He is so friendly and knows all of the right spots to see and take photos. He grew up in Wadi, Rum, his whole life, so he knows everything there is to know. He will also tell you real things. There was a tour guide passing us when we stopped at this castle, and the guide goes, "This castle was in this movie," and Mo said, "That's a lie." Hahahaha. He was so funny, had a great sense of humor, spoke English well, and also could take amazing photos! My photos from Wadi Rum will be enough to get you to go. Have the best time! Drink lots of apple tea, take great photos, enjoy seeing the stars, and enjoy disconnecting from wifi for a bit and taking in the experience. Jordan is in my top 5 favorite countries now for sure! You will love it!